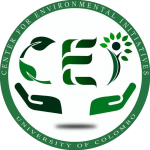 Center for Environmental Initiatives (CEI)
The Center for Environmental initiatives (CEI) of University of Colombo is a center established with the target of achieving environmental protection and sustainable green development. The goals of the Center for Environmental Initiatives are as follows:
Adoption of green initiatives and becoming a green university by 2020
Establishment of a proper solid waste management system for the university
Protecting the campus environment and making the campus premises more environmentally friendly
Creating environmental awareness among university community and outside the university (Schools) and supporting others in green activities
In achieving the above goals the CEI is planning to organize a number of programs with the support of many public and private authorities/organizations to create environmental awareness among the university community.
Posters
An awareness video on current waste management situation and waste generation at the University of Colombo was made to create awareness among the university community on the importance of minimizing the use of polythene on campus.
Awareness Lectures
Faculty wise awareness lecture for staff and students
Awareness lecture to newcomers at the orientation programme
Awareness lectures for School children and staff
e-Waste collection programme
e-waste collection programme from all faculties of the University of Colombo was held on 12th June 2018 in collaboration with the Environmental Committee of Sri Lanka Association for the Advancement of Science (SLASS).
---
Waste survey 2017
A waste survey was conducted with the participation of 34 university students covering the Colombo 03 campus premises.
---
Establishment of a waste storage center for recyclable material
This is an ongoing project with the partnership of Central Environmental Authority, Sri Lanka
---
Upcoming Going green projects
Distribution of cloth bags among community for a reasonable price to encourage the use of environmentally friendly material in place of single-use plastic bags
Cleaning and developing the existing wetland patch inside the university premises into an urban wetland
Published a poster presentation on "Impact of university waste management practices on greenhouse gas emissions at landfill sites" at 2nd international conference on Climate change 2018
Environmental officer – CEI
Ms. Madumi Kariyawasam
B.Sc special in Environmental Science
Address
Center for Environmental Initiatives,
College House,
University of Colombo, 94,
kumaranathunga Munidasa Mawatha,
Colombo 03.
Email
environmental_initiatives@cei.cmb.ac.lk