Center for Environmental Initiatives (CEI)
Strive towards Sustainability
Making University of Colombo a polythene-free zone
University of Colombo was made a polythene- (or single use plastic-) free zone in 2017. The use of durable lunch boxes, water bottles, cutlery and glassware on campus have been promoted, while discouraging the use of single-use plastics. The use of lunch sheets within the canteens was banned in 2017. This was carried out through awareness creation among the campus community and service providers including the canteen- and cleaning staff.
Establishment of a waste storage center for recyclable material
Waste storage center for recyclable material was established with the partnership of the Central Environmental Authority, Sri Lanka.
Distribution of waste bins for waste segregation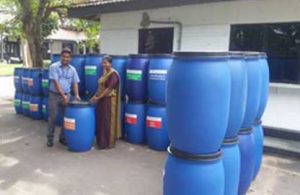 The Center for Environmental Initiatives received 40 waste bins as a donation from the MAS Linea Intimo (private) Ltd. in 2017 to be utilized for the University's waste management programme. This helped strengthen the ties between our university and MAS.
E-waste collection programme
e-waste collection programme from all faculties of the University of Colombo was held on 12th June 2018 in collaboration with the Environmental Committee of Sri Lanka Association for the Advancement of Science (SLASS). CEI has been involved in the other e-waste collection programmes conducted by the university as well.
Orientation programme and student awareness sessions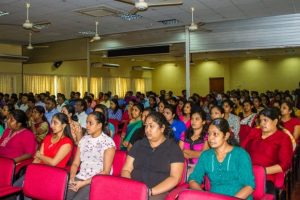 Awareness sessions on environmental (including waste) management at the university, and green university concept have been conducted at the orientation programme for new students in different faculties in each year starting from 2017. The CEI frequently uses e-messages to communicate with the students; posters and banners have also been used to update students on CEI events.
Academic and non-academic awareness sessions
Initiatives on environmental management and CEI activity updates are communicated to the staff members via awareness programmes, monthly meetings and through e-messages.
General awareness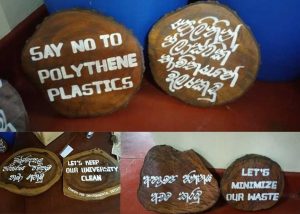 Awareness boards have been placed within the university premises to increase awareness on waste management practices.
School awareness programmes
Be a part of the solution, not part of the pollution". "Trash to Treasure" – Workshop jointly organized by the Center for Environment Initiatives, Leo Club of UOC Alumni, and Leo Club of Colombo Millennium was successfully held on 13th November at Defence School, Slave Island. Read More
Canteen and cleaning staff awareness sessions
The CEI conducts regular meetings with the cleaning- and canteen staff to manage and maintain the quality of the university environment. The cleaning staff works closely with the CEI supporting the maintenance and proper functioning of the waste storage center. Canteen staff support the reduction of the polythene use by banning the issuing and use of lunch sheets within the canteens.
An awareness video on the current waste management situation and waste generation at the University of Colombo has been used to create awareness among the university community on the importance of minimizing the use of polythene on campus.
Watch the presentations made by the CEI Management Committee members from different faculties/Institutes
Presenter: Mr P.M.S. Bandara
Deputy Registrar, Faculty of Arts
Issue Date: July 27, 2021
Presenter: Mrs S.A.S. Priyadarshani
Senior Assistant Registrar, Institute for Agro technology and Rural Sciences
Issue Date: July 27, 2021
Presenter: Mrs Anusha Sabanathan
Deputy Registrar, Postgraduate Institute of Medicine
Issue Date: August 27, 2021
Presenter: Mr R.A.A.N. Ranasinghe
Curator, Sri Palee Campus
Issue Date: September 30, 2021
Presenter: Ms G.M.Y. Dannangoda
Senior Assistant Registrar, Faculty of Management and Finance
Issue Date: September 30, 2021
Presenter: Dr K.L. Konasinghe
Senior Lecturer
Founding Director, Center for Environmental Law and Policy, Faculty of Law
Issue Date: November 08, 2021
Presenter: Dr Jinendra Dissanayake
Senior Lecturer
Department of Plant Sciences, Faculty of Science.
Presenter: Ms Madhara Jayarathna
Assistant Registrar
University of Colombo School of Computing
OTHER
Distribution of cloth bags among the community for a reasonable price to encourage the use of environmentally friendly materials in place of single-use plastic bags.
Cleaning and developing the existing wetland patch inside the university premises into an urban wetland.
CEI Office Address
Center for Environmental Initiatives,
College House,
University of Colombo, 94,
kumaranathunga Munidasa Mawatha,
Colombo 03.
Waste Storage Center
Near the Education Faculty entrance Gate
Opening days and hours – Tuesday and Thursday from 2.00p.m to 3.00p.m