University of Colombo has a strong commitment towards research. Academics in various disciplines engage in high-quality research of local and international relevance.
Search for a staff, researcher, project or group
Details of ongoing research, and publications, are available on the UoC Research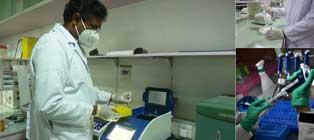 How related are we to each other? Can we predict the kinship between two individuals no matter how distant and complex the relationship is? Are Sri Lankans truly one big family? Read More
---
Discover a World of Knowledge with the University of Colombo's Wide Range of Academic Journals in Medicine, ICT, Management, Law, and Arts.