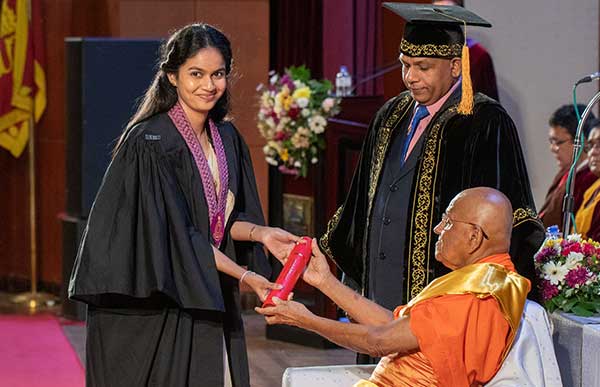 General Convocation 2022
The University of Colombo conducted its General Convocation 2022 at the Bandaranaike Memorial International Conference Hall on the 05th and 06th of September of 2023 under the patronage of the Venerable Chancellor Sasana Keerthi Sri Buddha Sasana Shobhana Venerable Muruththettuwe Ananda Nayaka Thero, with the presence of the Vice Chancellor- Senior Professor (Chair) H.D. Karunaratne, Rector, Deans, Directors of the Institutes, Registrar, Bursar, Acting Librarian, Academic Staff, Administrative and Finance Officers.
A total of 3151 students were conferred degrees at this Convocation in various study disciplines including Medicine, Health Studies, Science, Law, Arts, Management, Bio-Systems Technology, Engineering Technology, Environmental Technology, Nursing, ICT, Agro Technology & Rural Sciences, Education, Labour Education, Physiotherapy, Mass Media, Performing Arts and Indigenous Medicine at this most prestigious academic event of the University of Colombo.
The Convocation started with session one on the 05th of September 2023 for the Faculty of Management & Finance followed by the Faculties of Arts (General Degree) Education and IHRA in session two and the Faculty of Arts ( Honours Degree) and Institute Agro-Technology and Rural Sciences on the session Three.
On the 06th of September 2023 started with session Four for the Faculties of Medicine and Technology. Session Five was for the Faculties of Law, Indigenous Medicine and Nursing. Session Six of the 06th of September was for the Sri Palee Campus and the University of Colombo School of Computing. Session seven was for the Faculty of Science. Open Awards 2022 were awarded at the last session on the 06th of September 2023. Fifty-two (52) numbers of University of Colombo Academic Excellence Awards were also awarded at this Convocation.