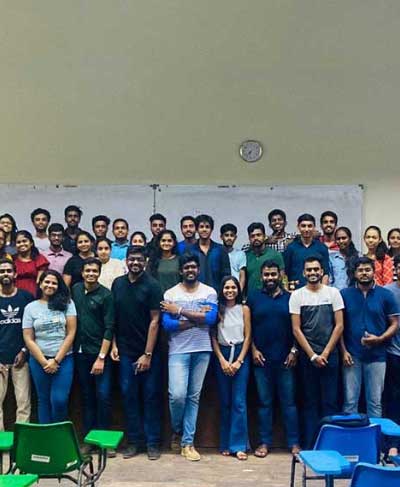 The Journey of the Music Society – Faculty of Science
Music is a universal language, capable of touching even the coldest of hearts and uniting people through its beauty. There are no barriers to enjoying music, regardless of who you are and where you come from. The undergraduates of the Faculty of Science are no exception to this. The Society was first established in 2016 by a group of like-minded individuals who shared a passion for music and joined forces with the goal of creating a space for music lovers. It serves as a platform for students to immerse themselves in the incredible world of music, providing them with opportunities to explore their passion, discover hidden talents, and develop new skills. Since its inception in 2016, the Music Society has created numerous valuable opportunities for undergraduates and continues to do so.
Naada Nu
"Naada Nu" is one of the largest annual concerts at the Faculty, with the Music Society serving as its primary organizational structure. It made its debut in 2015 when a group of students felt the need to express themselves through music, and subsequently, it has been held annually in 2016, 2017, 2018, and 2019. The inaugural "Naada Nu" concert set in motion a series of events that led to the formation of the Music Society. Unfortunately, due to the global pandemic and the country's economic situation, plans for "Naada Nu" had to be reluctantly postponed for three years. However, through considerable effort and commitment, the concert experienced a revival in the form of "Naada Nu'23" With the guidance and support of Dr Dilushan R. Jayasundara, the staff advisor, and Professor Sampath S. Seneviratne, the representative at the Arts Council for the Faculty of Science, we were able to carry on the Music Society's legacy.
Sundown
With an atmosphere filled with fun and relaxation, "Sundown" was organized to offer students a respite from the stress of exams and other commitments. It took place for the first time on September 7, 2022. The event proved to be exceptionally successful, surpassing all expectations with a higher turnout than anticipated.
Baila Night
The music of Sri Lanka represents a cultural heritage that must be treasured and conserved. Baila has been a significant element of Sri Lanka's music industry throughout much of its recent history. Hence, during Baila Night '23, held on June 8, 2023, students had the opportunity to immerse themselves in an evening of Baila music. The genre was explored in-depth, along with its historical context, offering the audience a complete and authentic Baila experience.
Voyage Melodique
This is the orientation program for newly admitted students of the Faculty and "Voyage Melodique '23" took place on June 22, 2023, for the 2022/23 intake. The event welcomes and introduces them to society through ice-breaking sessions, games, and other fun activities. This event also provides a chance for new students to get to know their peers within the faculty, signifying the commencement of their musical journey within the Music Society.
Strings Out
The "Strings Out" competition offers students the opportunity to test their skills and receive valuable feedback. The competition is divided into vocal and instrumental categories, encouraging students to step out of their comfort zones and promoting their growth as musicians through the acceptance of new challenges.
Workshops
Through workshops, the Music Society has created an opportunity for anyone interested in learning music to take their first step in the right direction. While there is a strong interest in music among many students, resource limitations can be a barrier. Therefore, it is essential to identify raw talent and cultivate it into skills. The Society encourages students to freely express themselves in a healthy manner. Music serves as a valuable tool for stress relief, and its recreational benefits are scientifically proven. The Society is committed to ensuring that undergraduates of the Faculty of Science become well-rounded individuals while upholding its legacy.