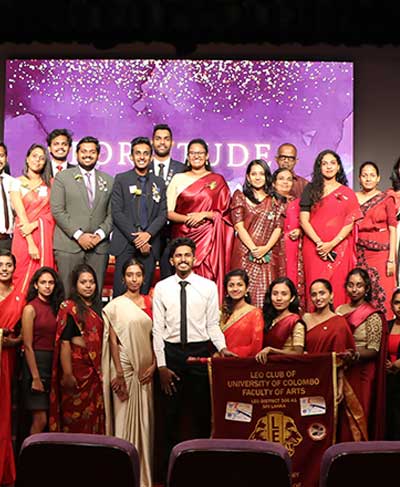 FORTITUDE – The 6th Installation Ceremony of the Leo Club of the Faculty of Arts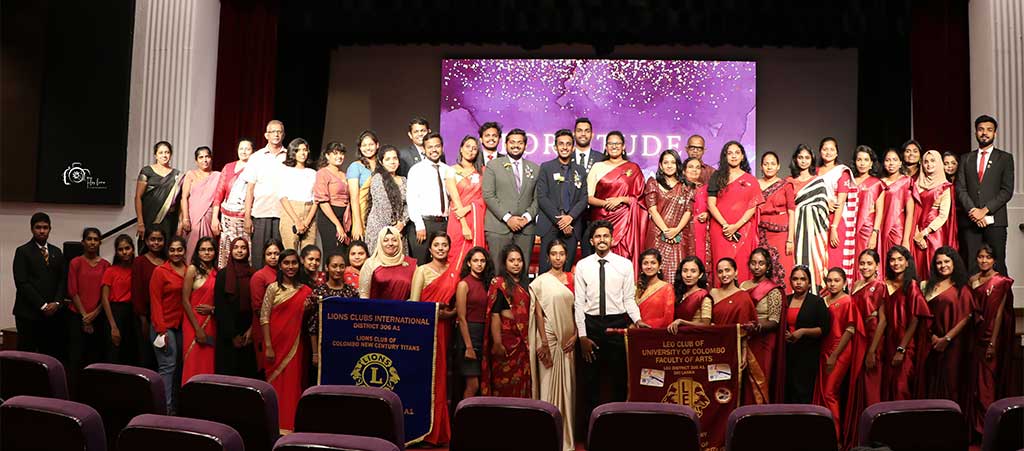 The 6th Installation Ceremony of the Leo Club of the Faculty of Arts was held on September 2, 2023, at the New Arts Theatre. It was a profound celebration of 'Fortitude.' In this context, 'Fortitude' signifies not only resilience and courage but also an unwavering commitment to positive change, both within the university community and in society at large."
The highlight of the ceremony was the induction of Leo Tharushika Peelikumbura as the 6th President of the club. Her leadership promises to bring fresh perspectives and energy to the organization, ensuring its continued growth and impact on the community. The ceremony was graced by the Senior Treasurer of the Leo Club Faculty of Arts, Dr Ajith Balasooriya and his guidance and mentorship have been instrumental in our journey towards fortitude and sustainability.
A remarkable aspect of this Installation Ceremony was its conscious effort to reduce its environmental footprint. The Leo Club of the Faculty of Arts, in alignment with their theme of 'Fortitude,' made a powerful statement by hosting a plastic-free event. This eco-friendly approach reflects their dedication to sustainability and their vision of leading by example, showing that change begins within us. This sustainability-conscious choice not only showcased their commitment to protecting the environment but also highlighted their service to the community. By setting an example of responsible event management, the Leo Club demonstrated its determination to create a more sustainable future for all.
Furthermore, the Leo Club's commitment extends beyond environmental responsibility to community and university service. They have consistently strived to make a meaningful impact by executing projects in vital areas such as Quality Education and Literacy, Youth/Women Empowerment, Senior Citizens Development, and the Environment. Through these endeavours, they have become an integral part of the University's ethos of service to the community. As a result of their dedication, this Installation Ceremony serves as an inspiring example of a student organization that not only celebrates its leadership transition but also uses the occasion to underline the importance of fortitude in driving positive change. Their event management choice reinforces their commitment to sustainability, and their unwavering dedication to community and university service is a testament to their impactful presence within the university.
The Leo Club of the Faculty of Arts continues to be a beacon of hope, fostering a spirit of social responsibility within the university and the broader community. This remarkable Installation Ceremony deserves recognition and serves as an inspiring model of how student organizations can lead the way in creating a sustainable and compassionate future for all.