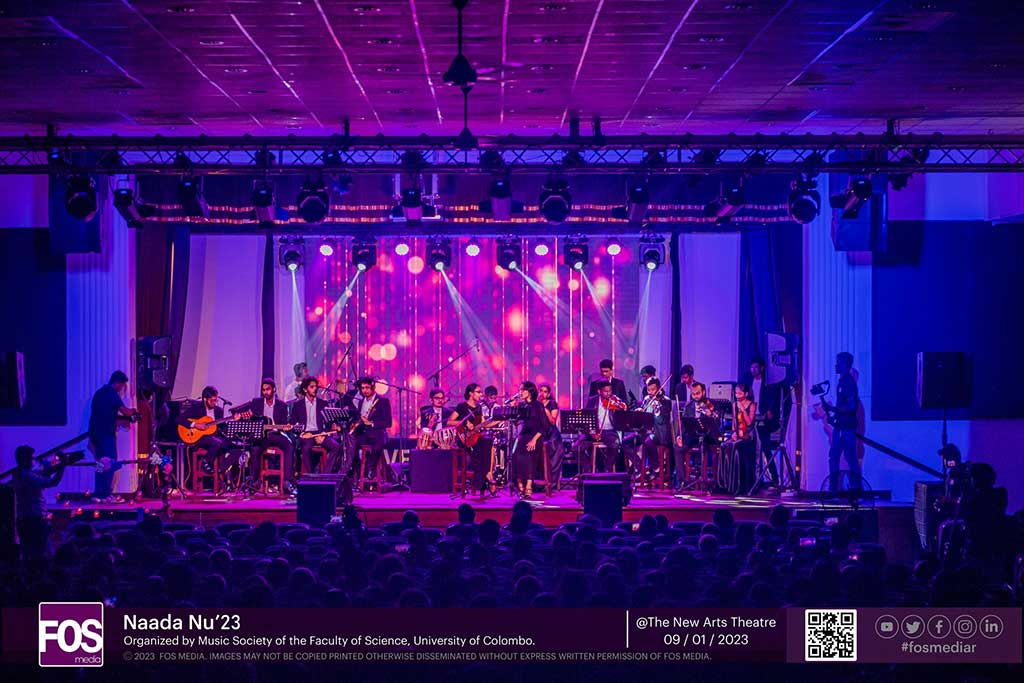 Naada Nu'23
The Music Society of the Faculty of Science is a space for like-minded students who share a love for music. As students from an environment of scientific learning, the Music Society provides a welcome respite as it encourages the pursuit of arts and creates well-rounded students. Initiated in 2015, the Music Society had the sole purpose of organizing Naada Nu. However, it has since branched out played a major role in providing students with opportunities to enhance their knowledge and gain experience through workshops and seminars on Guitar and Vocal training. Through online competitions like 'Strings Out', our students tested their progress and received an outlet for their talents and skills in singing and playing instruments.
Naada Nu is one of the biggest annual concerts at the Faculty of Science and the Music Society functions as its main organizational structure. It debuted in 2015 when a group of students felt the need to express themselves through music and has been held annually ever since. Unfortunately, due to the global pandemic and the economic situation of the country, the plans for Naada Nu had to be reluctantly halted for three years. This year, through much effort and commitment, the concert had a revival as Naada Nu '23. Under the guidance and support of Dr Dilushan R Jayasundara, the staff advisor, and Professor Sampath S Seneviratne, the representative at the Arts Council for the Faculty of Science, we were able to continue the legacy of the Music Society.
The event was held at the New Arts Theater on the 9th of January 2023 under the theme "A musical journey around the world", Naada Nu'23 took the audience to many countries through many eras and brought a range of genres, including Pop, Rock, R&B, Jazz, Classical, Indian Classical, K-pop, and Bollywood and many more music genres onto the stage. The songs were performed by our students to music produced by an orchestra consisting of 19 of our instrumentalists and arranged entirely by the students of the Music Society. The event was graced by the presence of one of the most influential composers of Sri Lanka, Mr Nadeeka Guruge, as the Chief Guest and featured guest performances by Mr Nadeemal Perera and Mr Minura Halwathura.
Throughout the years of working together with a passion for music, the members of the Music Society have developed a strong sense of community and grown as a team. The Music Society will continue the legacy of Naada Nu and empower undergraduates to express their love for music to help produce well-rounded individuals.
View More Photos – FOS Media