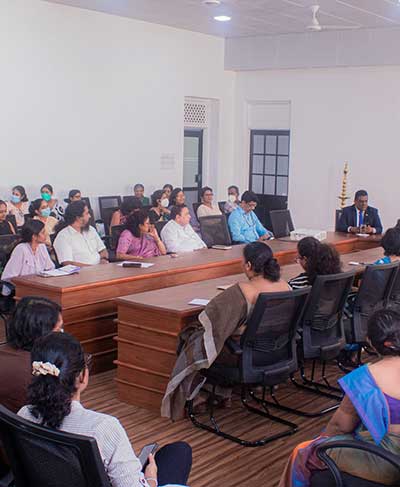 A New Board Room for the Faculty of Science
The Faculty of Science celebrated the opening of its new Board Room on the 3rd of January 2023. The event was attended by the Vice Chancellor, Senior Professor (Chair) H.D. Karunaratne, Mr Rahal Abeyrathne, Works Engineer, and Mrs Tharushika Pathiranage, Former Deputy Registrar of the Faculty of Science. The building which will house the new boardroom and the office of the Senior Assistant Bursar was previously the Science Library. Part of the Physics Department was also housed in the same building until 1989.
The new Board Room with a seating capacity of over a 100 was seen to be a necessity to cater to the increasing number of Faculty members. At the event, Senior Professor Upul Sonnadara reflected with gratitude on the support rendered by the Vice Chancellor, Mr Abeyratne and Mrs Pathiranage in facilitating the refurbishment. He also provided some insights into the history of the building. The Vice Chancellor also addressed the gathering. He highlighted some aspects of the Strategic Plan of the University of Colombo and ways in which the Faculty of Science could contribute towards achieving the set goals. The event ended with tea and a time of fellowship, which was followed by the Faculty Board meeting, the first to be held at the new venue.
View More Photos – FOS Media