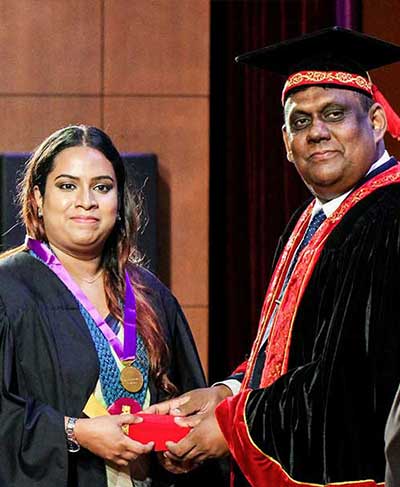 D. P. P. Samarasekara Peace Prize – General Convocation 2020
University of Colombo congratulates Ms. Promodya Dayawansa – Faculty of Law and Ms. Tushani Ranawaka – Faculty of Medicine on receiving the Open Awards – D. P. P. Samarasekara Peace Prize at the General Convocation 2020.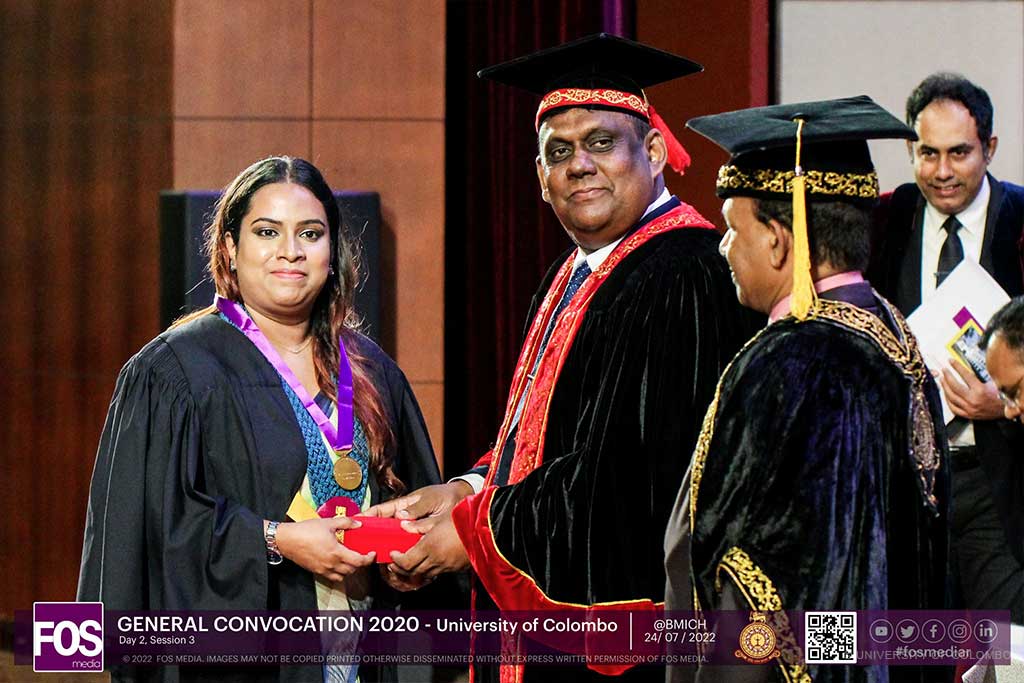 Ms. Promodya Dayawansa – Faculty of Law
Ms. Promodya Dayawansa completed her Bachelor of Laws degree with Second Class Honors in 2020. Subsequently, she passed her Attorney-at-Law final examination with Second Class Honors and will be enrolled as an Attorney-at-Law of the Supreme Court of the Democratic Socialist Republic of Sri Lanka in the near future. During her undergraduate years, she was actively engaged in many youth & civil society organizations and passionately worked as a youth activist and a social worker for the betterment of society. She mainly advocates for the rights of marginalized communities and also creates platforms to address socio-economic and cultural issues in Sri Lanka, both locally and internationally. As a result of her courageous efforts to address climate change, Sri Lanka was recently awarded the Rotaract Outstanding Project Winner for the South Asia Region. She is a recipient of the Spirit of Service award in the Rotaract Movement for her immense service. Apart from that, she has received many awards, recognitions for several sustainable and novel projects piloted by her, which have benefitted larger communities. With her experience as a social activist, Director, Chair Person, and Resource Person to many organizations and programs & her academic background in the legal profession, she continues her journey to serve communities, while ensuring that the right values & principles are transmitted to those around her.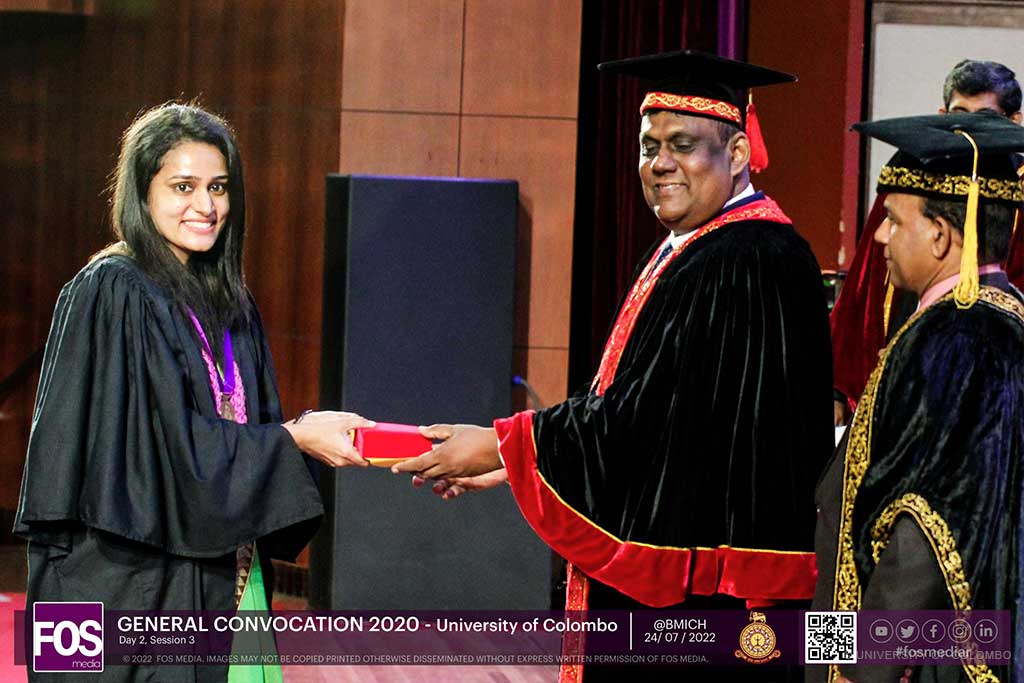 Ms. Tushani Ranawaka – Faculty of Medicine
Ms. Ranawaka Arachchige Tushani Kawmadie Gimanthika Ranawaka hailing from Visakha Vidyalaya Colombo, an undergraduate from Faculty of Medicine successfully graduated with Second Class Honours in Bachelor of Medicine and Bachelor of Surgery. She is currently completing her internship at Lady Ridgeway Hospital for Children and has several research papers published, with her special interest in Obstetrics and Gynecology and Medical Education. Her research paper titled "Readiness for Technology Based Teaching among Undergraduates of Faculty of Education, University of Colombo" was presented at Asia Pacific Medical Education Conference 2019- National University of Singapore and published in the South-East Asian Journal of Medical Education. She was the founding president of the first Rotaract club of medical students in Sri Lanka and provided the opportunity for the students to serve the local community, country and world at large while improving their own professional development. It reached great heights receiving several awards during its first year of commencement itself. She conceptualized the Sign Language training program for medical undergraduates, thereby making healthcare inclusive towards the community with hearing difficulties and also the career guidance programme for medical undergraduates. She initiated the celebration of Bhutanese National Day strengthening the bond between foreign and local students.
Ms. Tushani captained the Sri Lankan National University team at the World University Netball Championship, Kampala, Uganda and University of Colombo team that emerged Runner up at the inter university netball championship 2018. She was awarded University colours in 2015 and re-awarded in four consecutive years and awarded SLUSA Colours in 2018 and 2019. She was the best player of the year Netball of University of Colombo in 2019 and was awarded the most number of colours awards at the Faculty of Medicine for her performance and leadership in basketball, tennis and table tennis. She was awarded the scholarship "JENESYS 2018 – Health" by the People of Japan and the Japan International Cooperation Centre in collaboration with the Ministry of Higher Education, Ministry of Health and Ministry of Foreign Affairs and she was the leader of the undergraduate delegates that represented Sri Lanka in Japan. Her executive committee was awarded the 1st place in Zonta International Emma L.Conlon Service Award in 2019 for local and international service and advocacy for female empowerment.