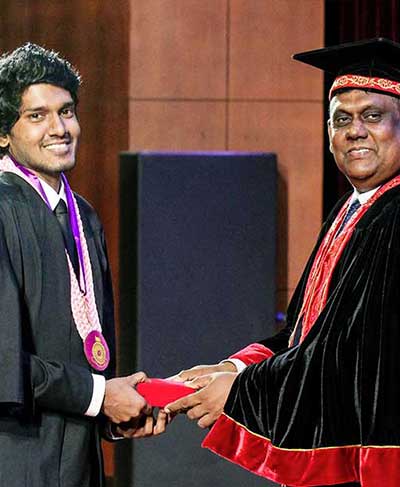 Canekeratne Prize for General Merit – General Convocation 2020
University of Colombo congratulates Ms. Vitharana Gamage Eranga Sandamini Wijewardhana Dissanayake – Faculty of Law, Ms. Ashwini De Silva – Faculty of Management & Finance, Mr. Kaneel Dias – University of Colombo School of Computing on receiving the Open Awards – Canekeratne Prize for General Merit at the General Convocation 2020.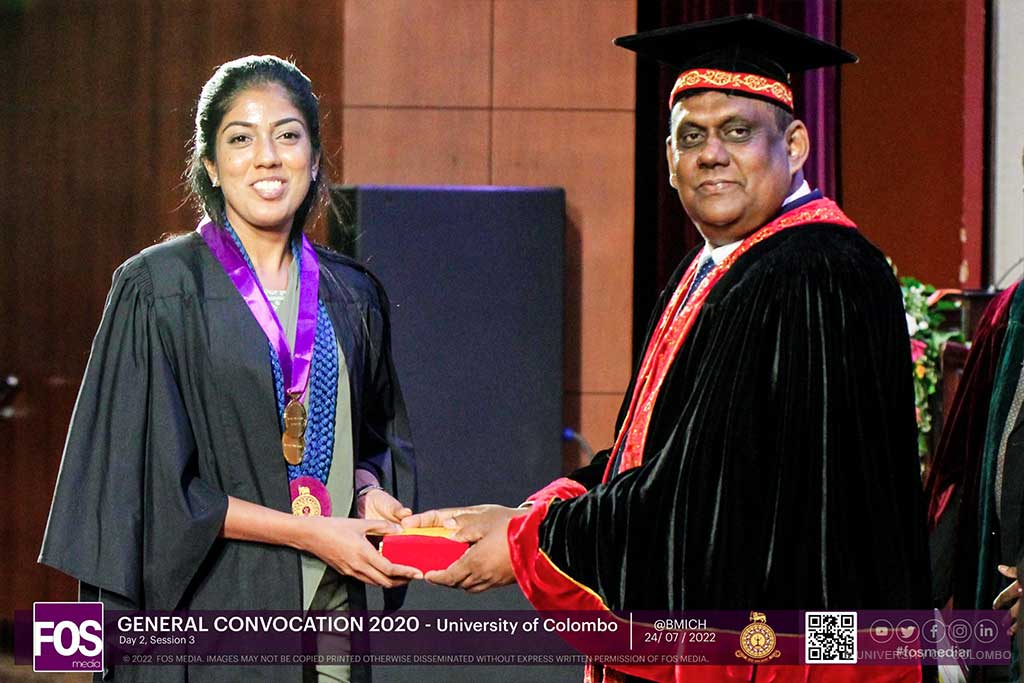 Ms. Eranga Dissanayake – Faculty of Law
Ms. Eranga Dissanayake entered the Faculty of Law, University of Colombo in 2017, securing the 1st place in Matara District at her G.C.E A/L Examination and successfully completed her LL.B (Honours) degree with a second class upper division. In addition to that, she holds Diplomas in Commercial law, Human Rights and Humanitarian Law, International Relations, Diplomacy and World Affairs, Human Resource Management and ICT Law. She also completed the Examination for Professional Qualification of Attorney at Law at Sri Lanka Law College with a Second Class and an average of 69.25. Aside from her academic qualifications, Eranga was an achieving athlete in the university. Being the Vice captain of the athletic team of University of Colombo in 2019, she had the honor of representing the Amalgamated Club of University of Colombo. Ms. Eranga was a recipient of university colors for athletic while performing for 4 consecutive years at Sri Lanka inter university games championship. Going beyond the sports she played key roles in many clubs and societies within the university; such as Rotaract Club, Moot Court and Debating Society, Legal Aid unit, AIESEC, Leo club, Colombo Beacon and the Society of aesthetic and dimensions of law.
Having represented the Henry Dunant Memorial Moot court competition on International Humanitarian Law organized by the International Committee of Red Cross in 2019 she won the national championship award. While at university she represented Sri Lanka as a youth delegate, ambassador, chief Organizer and a volunteer in 20 plus international and national conferences including the Asia World Model United Nations Conference at Bali, Indonesia, the Ambassadors' model united nations conference at New York to represent the Mock International Court of Justice Session, 7th ALSA International Legal Training and Workshop by Asian Law students' Association and International Legal Research Conferences organized by faculty of Law in 2018 and 2019.
In addition to that, she had the opportunity to publish her research work in few national and international journals. her research paper on the right to education in Sri Lanka was presented at Asian Universities Alliance – Academic Conference in Bangkok, Thailand. Her Non – academic publication of the Sinhala poetry book "ඉගිලෙන්න දිගැර තටු" was another achievement. Also, she Contributed as an editor of the South Asian Journal of Environmental Law and Policy and as a Junior Researcher at Research on Language rights, Gender Equality and Women's Empowerment project. Ms. Eranga is an Outstanding social worker and a youth activist in the Sri Lankan community served in many capacities from volunteer to founder at different organizations such as "Walk to Hearts", "we for you", "සියපත" "සල ෝදරත්වලේ මනුදම" covering 500 plus projects for 8 years. She is the founder and Founding President of EarthMates Foundation, a youth Organization for environmental conservation in Sri Lanka. Ms. Eranga is also a resource person and a Guest speaker for American Spaces and American Corners, Sri Lanka. Nevertheless, being the Careers Secretary at the National Council of Law Students' Association of Sri Lanka, she served as the Vice president of training, exchange and development of the Asian Law students' Association.
She has been awarded with number of awards and scholarships in recognition of her excellence in academics, sports and proven leadership. Throughout her academic career, it was not just another lawyer in the making, but an exceptional youth activist, a dedicated writer, a flawless announcer and a debater, a great leader and a team player, working towards the betterment of the community no matter what role she plays at a given time.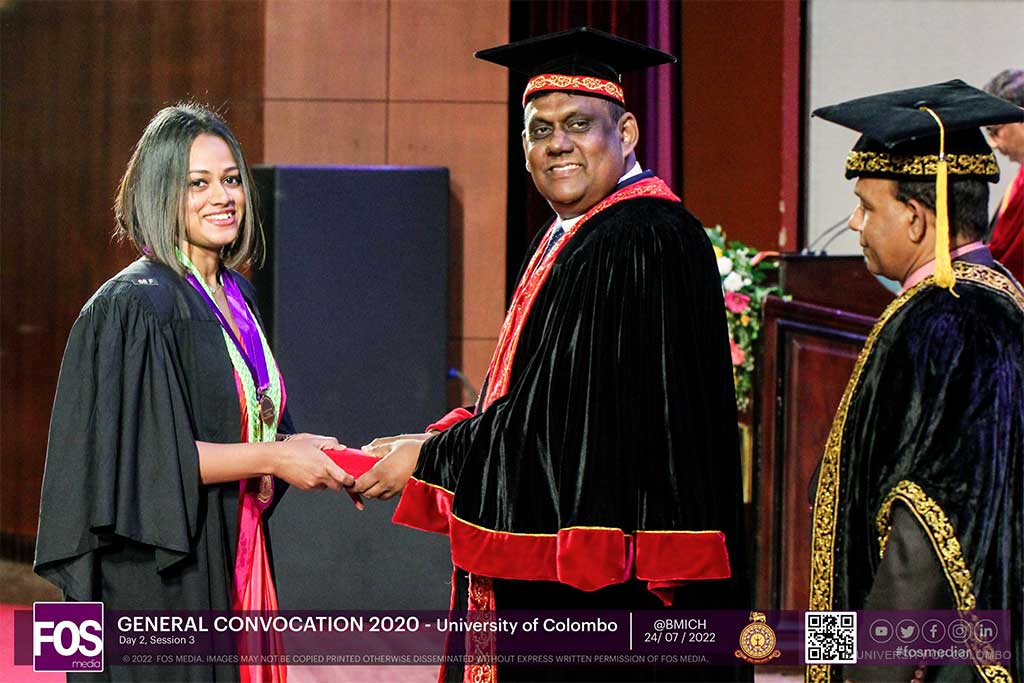 Ms. Ashwini De Silva – Faculty of Management & Finance
Ms. Ashwini De Silva has excelled in both academics and sports and has brought great honour to the University of Colombo. Ms. Ashwini captained the University of Colombo Swimming team which emerged runners-up in the overall and women's categories at the 13th Sri Lanka University Games in 2019 and was awarded University Colours for 3 consecutive years honouring her contribution to the University of Colombo. She was a member of the Rotaract Club of the Faculty of Management and Finance, serving as its treasurer and director of Finance. She spearheaded several projects which focused on the development of the university student community and the general community.
Ms. Ashwini was also the secretary of the Business Economics Students Association, Assistant Secretary of the Sri Lanka Business Economics Students Association and Chief organizer of the FMF Media club where she enthusiastically participated and organized a plethora of projects. Despite her commitment to extra-curricular activities, academically Ashwini has always performed brilliantly. She obtained a First Class Honours in Business Economics while maintaining a G.P.A of 3.89/4 throughout her undergraduate years. She is currently pursuing a PhD in Health Economics at the University of Melbourne on a fully funded scholarship, studying the social value of avoiding poor health states in children at the Melbourne School of Population and Global Health. She was also awarded the prestigious "Student of the Year" for the year 2020.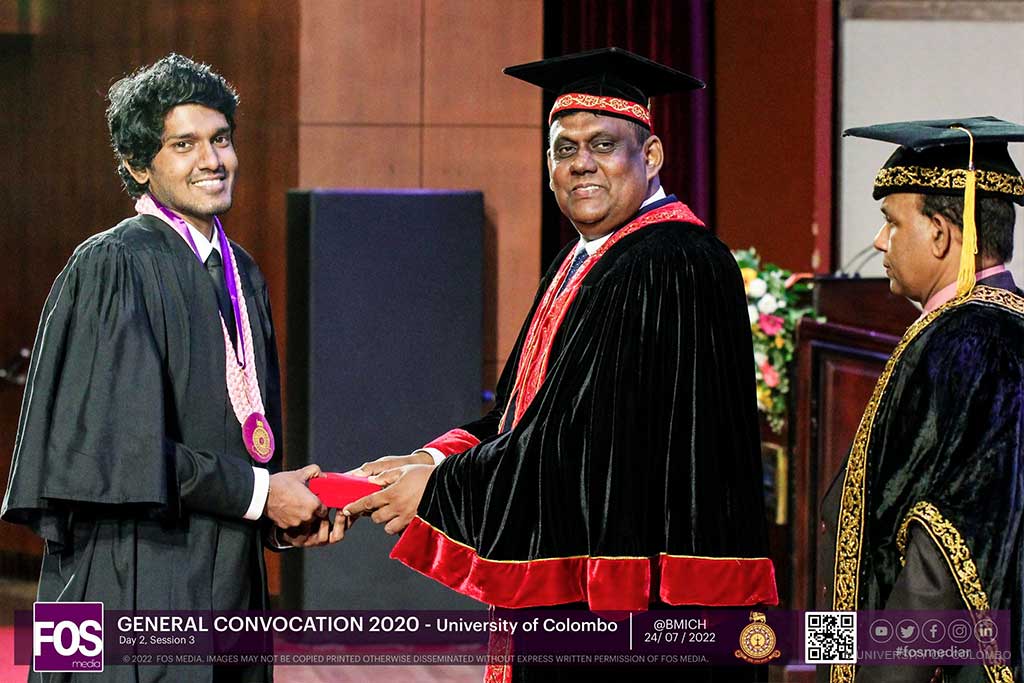 Mr. Kaneel Dias – University of Colombo School of Computing
Mr. Kaneel Dias completed his B.Sc. in Computer Science at the University of Colombo School of Computing with First Class Honours. During his time at the University, he was part of the Rowing Crew, representing the University at three inter-university regattas, as well as at the national level as well as the international level. Mr. Kaneel was also a member of AIESEC, where he was the Organizing Committee President for Global Village 2018, a team Leader for Paw Prints, Vice President for Marketing, and then the President of AIESEC in University of Colombo where the entity went on to win several international awards, and was also awarded as the Most Outstanding Local Committee of AIESEC in Sri Lanka for the first time in its history. Afterwards, Mr. Kaneel joined the National Committee of AIESEC as the Vice President for Finance, Legal & Information Management and was later elected as the President of AIESEC in Sri Lanka where he is currently serving.