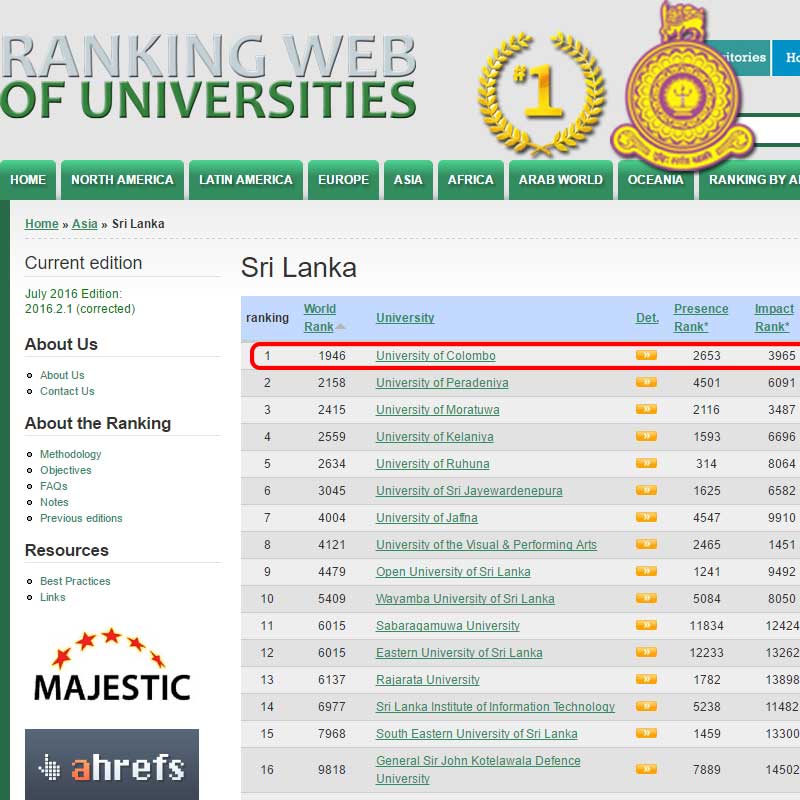 World University Web Ranking – July 2016
According to recent (July 2016) Webometric ranking, University of Colombo continues its position as number one university in Sri Lanka. Most importantly, it has improved 146 positions from January 2016 rank and with this improvement, University of Colombo has now become the only university in Sri Lanka which is seen within the top 2000 universities in the world. This also suggests that the University of Colombo is positioned in the upper 17 percent of all the higher educational institutions in the world that were evaluated by Webometric ranking.
The Ranking Web or Webometrics is the largest academic ranking of Higher Education Institutions. Since 2004, an independent, objective, free, open scientific exercise is performed by the Cybermetrics Lab (Spanish National Research Council, CSIC) for providing reliable, multidimensional, updated and useful information about the performance of universities from all over the world based on their web presence and impact. Overall objective of Webometric ranking is to provide correct, comprehensive, deep evaluation of the university's global performance, taking into account its activities and outputs as well as their relevance and impact.