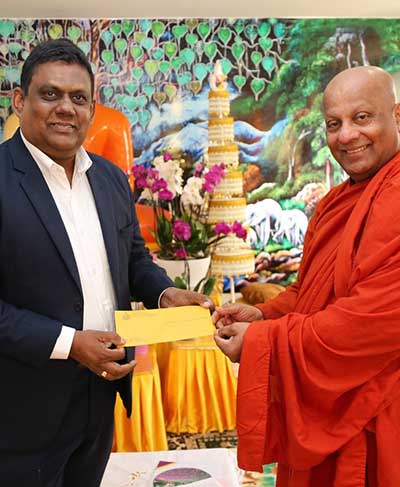 Venerable Dr Parawahera Chandaratana Thero Offers Support to UOC Students
In light of the economic crisis facing Sri Lanka, many underprivileged students at the university are experiencing financial difficulties. In response to this issue, Venerable Dr Parawahera Chandaratana Thero, the chief priest of the Buddhist Temple in Paris, offered financial assistance to these students. Accordingly, 100 students were selected from all faculties, including the Sri Palee Campus, on a quota basis according to the student population of each faculty based on the year 2022 and the prescribed selection criteria. The value of the scholarship is Rs. 5,000.00 for each student per month for 12 months for a period of 3 years until the last date of the academic activities, effective from May 2023.
The Vice Chancellor, Senior Professor (Chair) H.D. Karunaratne, signed the agreement during his visit to France on 21 April 2023, and the scholarship awarding ceremony was held on 12 June 2023 at the College House premises. The ceremony was attended by Venerable Chandaratana Thero, along with a few other donors for this scholarship, including the staff members and the recipient students of the university.