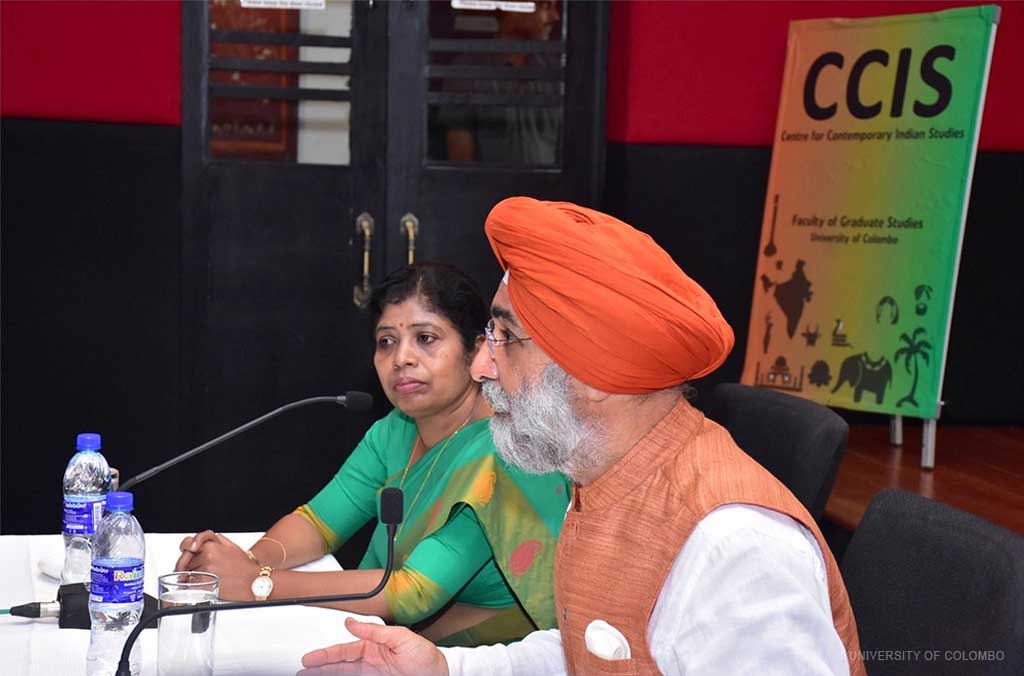 Student Interaction Session by the High Commissioner of India to Sri Lanka
The Centre for Contemporary Indian Studies (CCIS) has organized the event, Sri Lanka India Relations; Student interaction Session which was chaired by his excellency Mr. Taranjit Singh Sandhu, High Commissioner of India to Sri Lanka on Monday 30th July 2018, 2.00pm onward at the Indian Cultural Centre, 16 R G Senanayake Mawatha, Colombo 7. The academics and the students from different faculties including, Arts, Management, Education and Graduate Studies of the University of Colombo have participated to the forum.
A specially-tailored documentary highlighting key aspects of India's history, culture, geography and different facets of contemporary development, was presented by Mr. Niteen Yeola, the Head of Press, Information and Culture and the Ms. Neha Singh, the Deputy Head of the Economic & Commercial of the High Commission of India. His Excellency Mr. Taranjit Singh Sandhu spoke very insightfully regarding the Contemporary India and India's role in Reginal Corporation. The forum is focused on contemporary developments on multiple fields; such as ICT, automobile, Science and Technology and new innovations. It also explores the current status of multiple disciplines in India, determination of the development of different industries in Indian context and its contribution to the world Economy. The two-hour event concluded with a question and answer session where Students of the University of Colombo were effectively interacted with the High Commissioner.
The forum has given an eye opening impact to students in Sri Lanka where it has contributed to enhance the knowledge, vision and provided with strength to adopt good practices from Indian context to Sri Lanka and offer  opportunity to support the country.