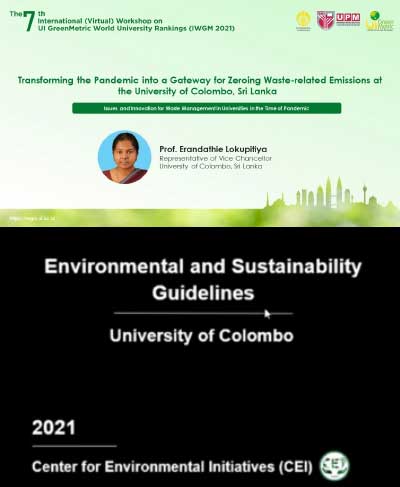 The 7th International (Virtual) Workshop on UI Greenmetric World University Rankings (IWGM 2021)
As the Covid-19 pandemic has affected the entire planet, disrupting almost all of the day-to-day work, people have to explore innovative methods to acclimatize to the existing situation. While people seem to have understood the requirement for becoming more environmentally conscious since a long time ago, adopting green strategies into any system in the world and bringing them up to the current progress demand a great deal of hard work and sacrifice. Therefore, we must hold on to the environmental conservation efforts during this challenging period; otherwise, we will bounce back to the point where we constructively began this green journey, wasting years of dedication.
The UI GreenMetric World University Rankings is an initiative of the Universitas Indonesia, launched in 2010, which analyzes sustainability performance by the universities worldwide and ranks them annually. The University of Colombo (UoC) participated in UI GreenMetric World University Rankings in 2020 and was ranked 443rd. The UoC has always tried to strengthen its sustainability framework while participating in and contributing to many knowledge-sharing platforms globally. Also, the UoC strives to ensure the continuation of its green practices during this trying time.
Accepting the invitation from the organizers, Prof. Erandathie Lokupitiya, Director, the Center for Environmental Initiatives (CEI), conducted a presentation at the 7th International (Virtual) Workshop on UI GreenMetric World University Rankings (IWGM 2021), which was held on August 25, 2021. The presentation was on "Transforming the pandemic into a gateway for zeroing waste-related emissions at the University of Colombo, Sri Lanka", which summarized the environmentally friendly initiatives the UoC adopted (continues and plans to execute) during the COVID-19 pandemic period, which have been triggered/encouraged indirectly by the restrictions the pandemic has brought in.