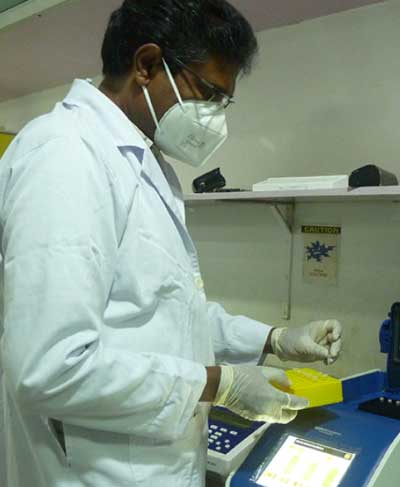 Ethnic Reality of Sri Lankans: A Hidden Story Unravelled

How related are we to each other? Can we predict the kinship between two individuals no matter how distant and complex the relationship is? Are Sri Lankans truly one big family? How related are we to other nationalities? These intriguing questions that have piqued the interest of many Sri Lankans have finally being addressed, in a recent research published in "Scientific Reports", one of the prestigious journals of Nature Portfolio.
The study was an outcome of a collaboration between the University of Colombo and Genetech Molecular Diagnostics, Colombo (a pioneer in DNA typing service in Sri Lanka) which was funded by the National Research Council and the Genetech Research Institute of Sri Lanka. The research was aimed at establishing the X chromosome-based DNA typing in Sri Lanka to fill a long-felt need in the kinship investigations among Sri Lankans.
The research team comprises Dr. Gayani Galhena from the Department of Zoology and Environment Sciences, Faculty of Science, University of Colombo, Mr. Nandika Perera, Genetech Molecular Diagnostics, Colombo, and Prof. Gaya Ranawaka from the Department of Zoology, Open University of Sri Lanka. The team recently developed a new, automated X chromosome-based DNA typing assay for Sri Lankans. This assay was intended to complement the existing DNA fingerprinting techniques which fail at some specific instances of complex kinship analysis providing inconclusive results.
X chromosome-based DNA fingerprinting is especially advantageous in cases, where at least one female is involved. The new study was thus specifically aimed to fulfill the prerequisites of applying this technique to Sri Lankans i.e. compiling an X chromosome-based population genetic database for Sri Lankan ethnic groups based on their genetic relatedness. The genetic position occupied by Sri Lankan ethnic groups at both local and global scales is not clear, due to their complex demographic history. Being located in the middle of the maritime silk route, Sri Lanka had been a shelter for many trespassers throughout historical times. Interestingly, these foreign settlers make up the majority of the population today of which 99.5% consist of four ethnic groups; Sinhalese, Sri Lankan Tamils, Moors, and Indian Tamils.