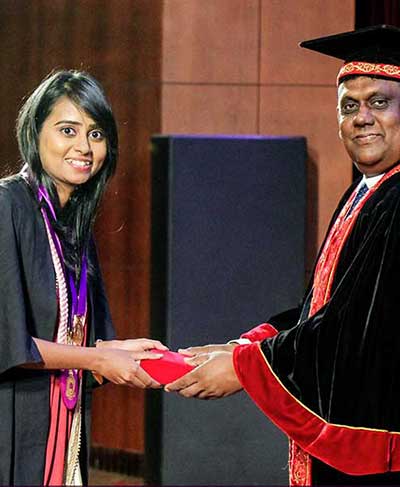 Student of the Year – General Convocation 2020
University of Colombo congratulates Ms. Ashwini De Silva, Faculty of Management & Finance and Ms. Tharushi Jayasekara, University of Colombo School of Computing on receiving the Open Awards – Student of the Year at the General Convocation 2020.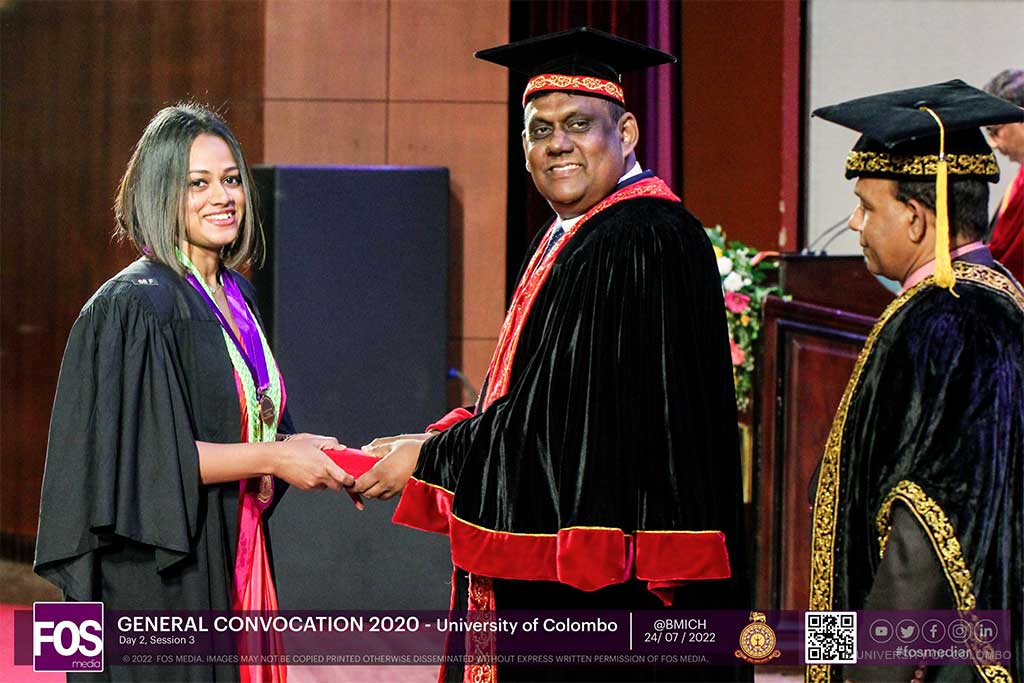 Ms. Ashwini De Silva – Faculty of Management & Finance
Ms. Ashwini De Silva has excelled in both academics and sports and has brought great honour to the University of Colombo. Ms. Ashwini captained the University of Colombo Swimming team which emerged runners-up in the overall and women's categories at the 13th Sri Lanka University Games in 2019 and was awarded University Colours for 3 consecutive years honouring her contribution to the University of Colombo. She was a member of the Rotaract Club of the Faculty of Management and Finance, serving as its treasurer and director of Finance. She spearheaded several projects which focused on the development of the university student community and the general community.
Ms. Ashwini was also the secretary of the Business Economics Students Association, Assistant Secretary of the Sri Lanka Business Economics Students Association and Chief organizer of the FMF Media club where she enthusiastically participated and organized a plethora of projects. Despite her commitment to extra-curricular activities, academically Ashwini has always performed brilliantly. She obtained a First Class Honours in Business Economics while maintaining a G.P.A of 3.89/4 throughout her undergraduate years. She is currently pursuing a PhD in Health Economics at the University of Melbourne on a fully funded scholarship, studying the social value of avoiding poor health states in children at the Melbourne School of Population and Global Health. She was also awarded the prestigious "Canekaratne Prize for General Merit" for the year 2020.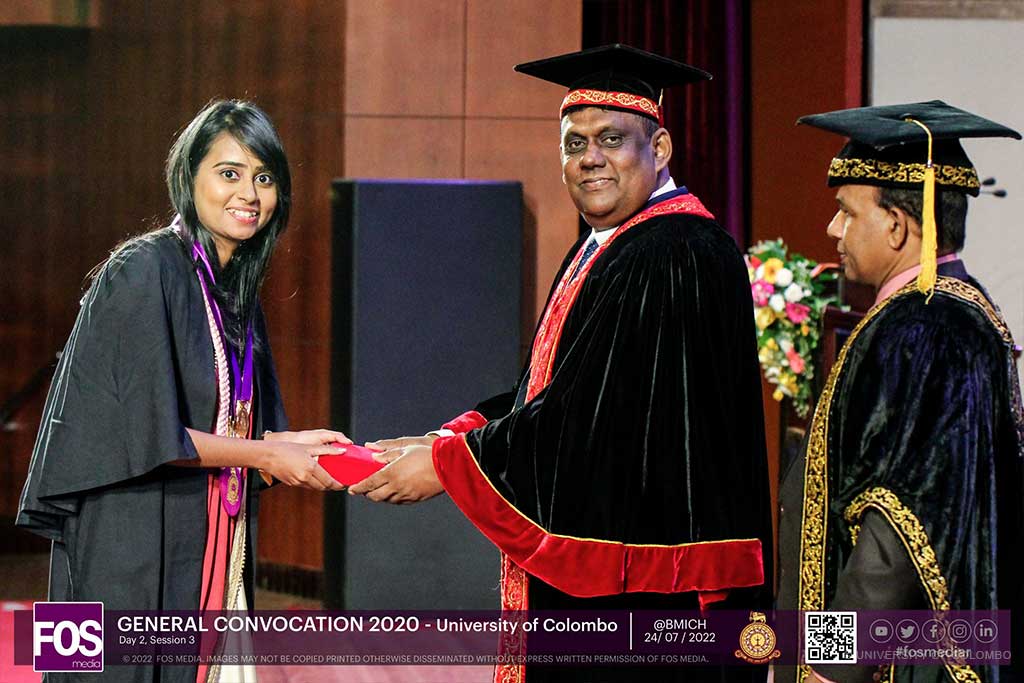 Ms. Tharushi Jayasekara – University of Colombo School of Computing
Ms. Tharushi Jayasekara completed her education at Musaeus College Colombo and gained acceptance to UCSC having passed her A/Ls with an island rank of 4th and 1st in the Colombo district. Continuing her excellent streak in academics, she graduated with first-class honours in Computer Science and the Prof. Mohan Munasinghe Award for the highest GPA. From her final year research, she has published an international full paper publication in the USA and also contributed to a book chapter. She has received a scholarship to attend the Cornell, Maryland, Max-Planck Pre-Doctoral Research School 2022 in Germany. Promoting university-industry relationship, she has completed internships in the industry locally as well as internationally through the prestigious Outreachy internship in the USA.
Amongst her extracurricular activities, she has led her team to victory in several inter-university programming competitions. Having emerged Champions at 3 inter-faculty and 3 inter-university Championships, she was awarded University Colors in Scrabble. As a strong advocate for women in tech, she was a recipient of the Women Techmakers Scholarship 2019 awarded by Google Australia and the Gracehopper Scholarship 2020 in the USA. As a result, she has contributed to several outreach programmes to create a diverse and inclusive community in tech.