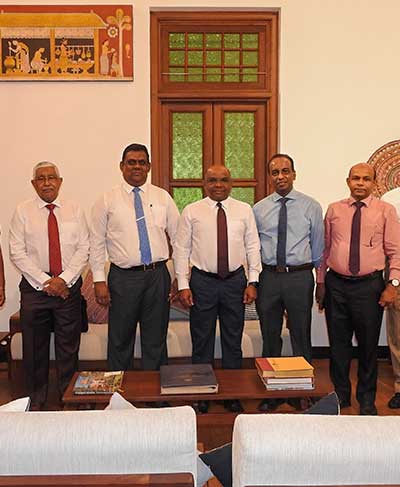 A high-level delegation from the Republic of Maldives visits the University of Colombo
A Maldivian delegation led by Honorable Mr Abdulla Shahid (O.D.R.I.), Minister of Foreign Affairs, Honorable Mr Ahmed Khaleel, Minister of State for Foreign Affairs and His Excellency Mr Ali Faiz, High Commissioner of the Republic of Maldives to Sri Lanka visited the Vice Chancellor, Senior Professor (Chair) H.D. Karunaratne, and Director Postgraduate Institute of Medicine (PGIM), Professor Senaka Rajapakse at the college house on the 3rd of February 2023. Also, the high-end Maldivian delegation was accompanied by Dr Hala Hameed, Secretary Bilateral, Ms Fathimath Ghina, Deputy High Commissioner and Ms Aishath Fareena, Assistant Director at the Ministry of Foreign Affairs, Republic of Maldives.
Dr Himani Molligoda, Acting Deputy Director/PGIM, Professor Sashika Manoratne, Director of the International Office, Mr K. A. S. Edward, Registrar, University of Colombo, Mrs S. Anusha, Deputy Registrar/PGIM, Mrs Dilhani Munasinghe, Senior Assistant Librarian/PGIM, Mrs Nimesha Dabare, Senior Assistant Registrar, Academic Department, Mrs Achini Perera, Senior Assistant Registrar, Examination Department, and Mrs Dilani Perera, Senior Assistant Registrar, International Office were present representing the University of Colombo.
The overarching purpose of the courtesy call was to foster opportunities for Maldivian doctors to pursue postgraduate medical education at the PGIM. The honorable Minister of Foreign Affairs of the Republic of Maldives commended the University of Colombo for its impressive track record in higher education, especially in postgraduate medical education. Moreover, different modalities and future possibilities for forging a sound collaboration between the medical professionals of the two nations were discussed extensively during the meeting.