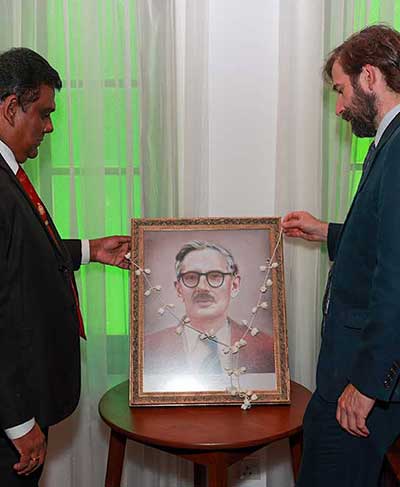 University Honours Founder's Legacy with 120th Commemoration Celebration
The University celebrated the 120th commemoration of its esteemed founder, Sir William Ivor Jennings, on May 31, 2023, at the Senate Hall, College House. Sir Ivor served as the first Vice-Chancellor of the University of Ceylon in 1942 and left keeping an indelible mark on the history of education in Sri Lanka in 1955. The event was graced by the presence of the Chief Guest, Senior Professor (Chair) H.D. Karunaratne, the Vice-Chancellor of the University. Mr Orlando Edwards, the Head of the British Council in Sri Lanka, was honored as a special guest.
A highlight of the occasion was the launch of the book titled "විශ්වවිද්‍යාලය බිහි වීම සර් අයිවර් ජෙනිංග්ස් සහ ආණ්ඩුක්‍රම ව්‍යවස්ථාව" (Emergence of the University: Sir Ivor Jennings and the Constitution). The book was authored by Mr Kapila Gunasinghe, an Assistant Registrar, and provided an enlightening background briefing to the audience, showcasing Sir Jennings' leadership. Senior Professor Sandagomi Coperahewa from the Faculty of Arts and Senior Lecturer Mr Menaka Harankaha from the Faculty of Law delivered inspiring speeches, emphasizing the enduring impact of Sir Jennings' contributions to their respective fields. The event witnessed the participation of the Deans of the Faculties, the Registrar, the staff members, and other distinguished invitees.