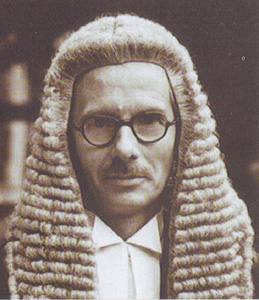 Sir Ivor Jennings
Vice Chancellor (1942 – 1954)

Sir William Ivor Jennings QC, Litt D (Cantab) LLD (Lond), the first Vice-Chancellor of the University of Ceylon, was born in Bristol on 16 May 1903. He was educated at Queen Elizabeth's Hospital, Bristol Grammar School, and St. Catherine's College, Cambridge. He started his academic career in 1925 as Lecturer in Law at Leeds University and as Holt Scholar of Gray's Inn. Jennings was called to the Bar in 1928, but he continued his academic career and joined the London School of Economics as Lecturer in Law (1929). By the time he accepted the post of Principal of the Ceylon University College in October 1940, he had already earned an academic reputation as a constitutional expert. He had taught law and political science at several prestigious universities in the United Kingdom, Canada, and the United States. Besides numerous contributions to international journals, he also produced eleven major books before he came to Sri Lanka at the age of 37. Considering the fact that Jennings lived only 62 years, he spent some of the best years of his life in Sri Lanka (1940-1954). Jennings recalls in his autobiography that even though there were moments when he regretted the books that could have been written had he stayed in England, he was finally convinced that he made the right decision to "take the road to Peradeniya". He was proud that he was able to help to build "one of the finest small universities in the world."
After the retirement of Robert Marrs who was the Principal of Ceylon University College (1922-1939), Jennings was appointed to that position with the added responsibility of creating a new university for the country. The University of Ceylon was established in April 1942 by amalgamating the Ceylon Medical College (established in 1870) and the Ceylon University College (established in 1921). Jennings hoisted the flag on 1 July 1942 at "College House" which continues to be the administrative centre of Colombo University.
What is striking is the meticulous care with which Jennings planned out the new university scheme. Besides drafting the University of Ceylon Ordinance No.20 of 1942, he had also written a large number of memoranda dealing with many aspects of university life. Referring to the last stages of establishing the new university, he says: "I had to enact more legislation in that month than the State Council did in a year." When the shifting of the university from Colombo to Peradeniya was underway, Jennings supervised the entire project, including the construction of buildings. He insisted: "This university has to last a thousand years, and we do not want shoddy work". It is clear that Jennings' views on education were influenced by the British notion of "the well-rounded gentleman-scholar with a background in liberal arts." He considered undergraduates who do not read books other than textbooks as "illiterate." "Such illiteracy, unfortunately, becomes cumulative, and standards generally will be lowered for several generations."
He always emphasized the importance of general education, a long process that begins in one's childhood. He said: "So far as examination standards are concerned you may rest assured that a graduate of the University of Ceylon is as good as a graduate of any Western university. His deficiency, if he has any, lies in his general education, his ability to do things as distinct from his ability to pass examinations. That deficiency arises from home and school environment and therefore varies from person to person." In order to produce men and women of high calibre, the university ought to give them not only "useful knowledge" (the kind of knowledge required for vocational needs) but also what is lacking in their general education. How can the university help those students who did not have opportunities to acquire a sound general education due to the defective home and school environment? Jennings thought that the university should be equipped to provide them with a "belated education." On the subject of Communism in Peradeniya, he insisted that "it is not my business to put down communism as such, but I have to see that surplus energy is drained off and not used for rioting." He placed great emphasis on cultural, sports, and recreational activities. According to Jennings, he was wrongly alleged to have said that Ceylon was a "cultural desert"; however, if that was the reality, he thought that the university would constitute an "oasis" in that desert.
Apart from his pioneering contributions to university life in this country, he also exerted considerable influence on the construction of a new constitutional order for independent Sri Lanka. He was the most trusted advisor to Mr D.S. Senanayake on constitutional affairs. Jennings, together with Sir Oliver Goonetilleke, helped Senanayake to evolve a strategy in his negotiations with the British for the transfer of political power. He drafted the first constitution of independent Sri Lanka. He also maintained a very close relationship with Prime Ministers Dudley Senanayake and Sir John Kotelawala.
"My judgement of the capacity of a person does not necessarily depend on his doing what I think he ought to do; quite often it depends on his doing something different for a reason which I recognise as valid but which had not occurred to me."
In the midst of his administrative and other responsibilities, Jennings continued his vocation of writings books.  He wrote seven new books while several new editions of his old books were also published.  He was knighted in 1948, made a QC in 1949, and awarded the KBE in 1955.  After leaving Sri Lanka, he became Master of Trinity College, Cambridge,  in 1954  and Downing Professor of the Laws of England in 1962.  Jennings passed away in Cambridge on 19 December 1965 at the age of 62. Despite some criticisms leveled against "Jennings' model" of university education, one could still be inspired by the kind of intellectual discourse that he was engaged in when discussing university problems.
Article prepared by Professor Amal Jayawardane, Executive Director, Regional Centre for Strategic Studies & former Dean, Faculty of Arts