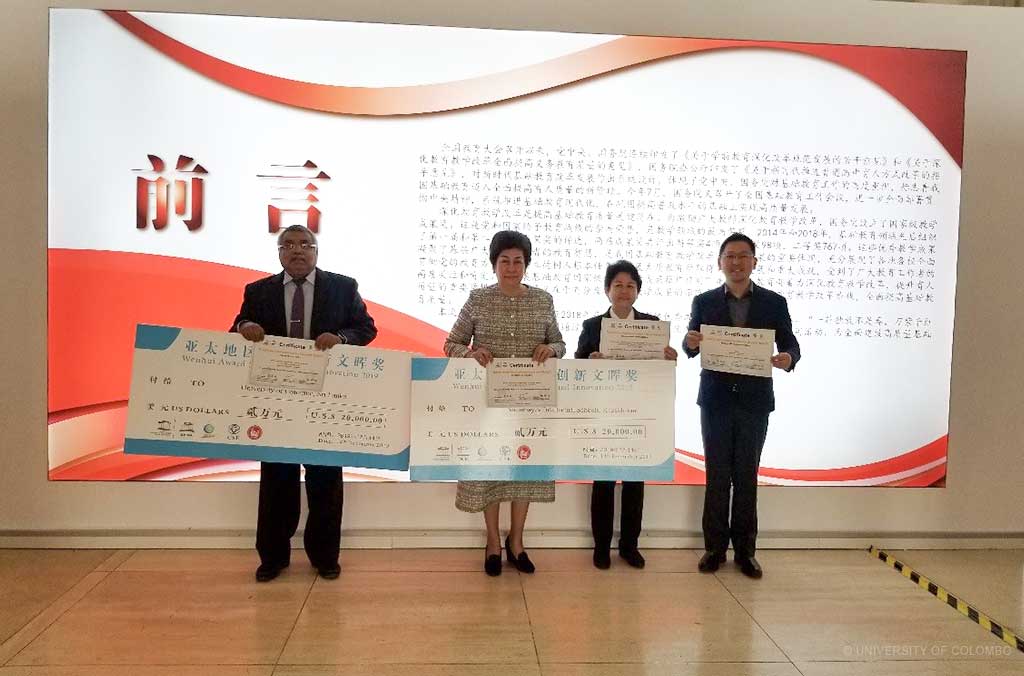 Service Learning programme wins the UNESCO Wenhui Award 2019
Service Learning Programme offered by the Career Guidance Unit, Faculty of Science has won the prestigious UNESCO Wenhui Award for Educational Innovation, 2019. Wenhui Award, established by the National Commission of the People's Republic of China for UNESCO, aims to recognize the contributions of educators and institutions which have optimized the potential of education and the human innovative spirit to address and resolve pressing issues and problems facing our world today. Recognizing the importance of quality education as the main infrastructure to achieve sustainable development goals (SDGs), the Career Guidance Unit (CGU) of the Faculty of Science has initiated a project to help remote and underprivileged schools to improve and uplift academic activities under one of its academic programmes- Service Learning.
Service Learning was introduced into the curriculum by the Career Guidance Unit (CGU) in 2012. The course allowed for a novel working experience by providing third-year science undergraduates with an opportunity to exercise their scientific knowledge and skills to contribute to community projects. This programme offers academic credits for the students. The financial support for the project is provided by corporate sector partners. Thus, the Service Learning Programme can be considered as a "Triple Helix" initiative that promotes the partnership between the university, the private sector and the community. The component of the Service-learning programme that aims to strengthen school education focuses mainly on information technology (IT), Science and mathematics. In addition, it also offers vocational training and other life skills for students to enhance their employability. Since 2012, the Service Learning programme has helped more than 16,000 school children island-wide through the following projects:
Empowering school children with IT (E-learning), Science, Mathematics and vocational education (2013 –ongoing) in collaboration with the Commercial Bank.
Promoting good food habits and combating malnutrition through raising awareness among school children (2013) in collaboration with GlaxoSmithKline.
Preparing school children/ leavers for employment: School to Office program – S2O (2015) in collaboration with HNB Assurance.
Swim for Safety: A hands-on training programme to enhance water safety skills in school children (2018 – ongoing) in collaboration with South Asia Gateway Terminal (SAGT).
The Service Learning Programme is managed solely by the volunteer academic staff members of the Faculty who are the core strength of the Career Guidance Unit.