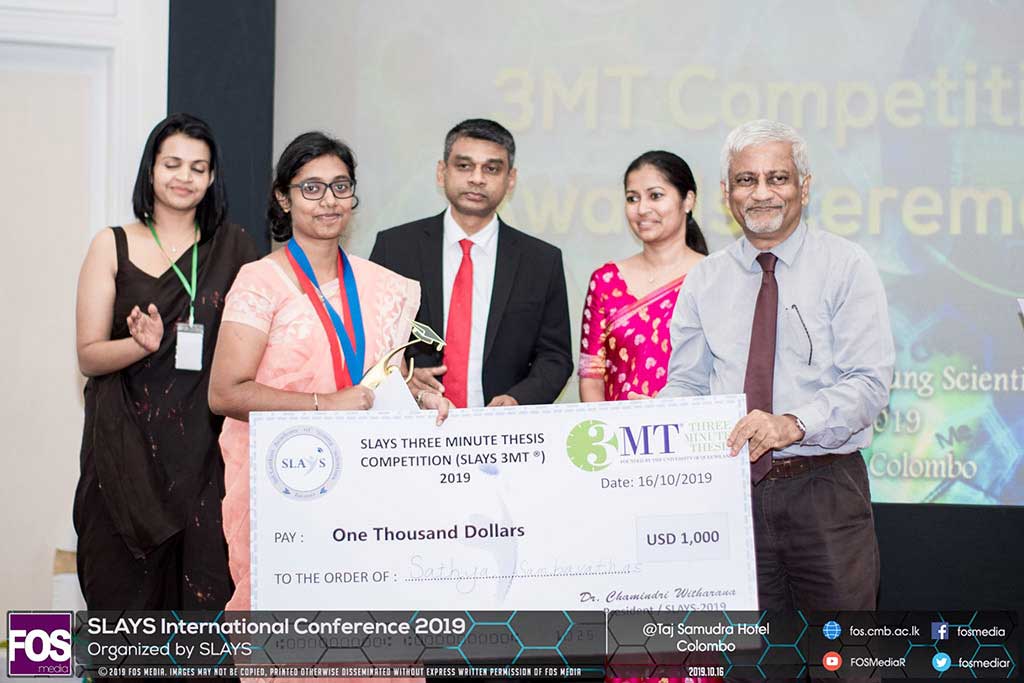 SLAYS Conference 2019
Promoting Impactful Research for Young Sri Lankan Scientists: SLAYS Conference 2019
The Sri Lankan Academy of Young Scientists (SLAYS) successfully held their 3rd annual international conference on the 16th of October 2019 at the Grand Crystal Ball room, Hotel Taj Samudra, Colombo. Considered the largest conference among early to mid-career scientists from academia and industry as well as postgraduate research students in Sri Lanka, the SLAYS conference provides a common platform that unifies young scientists from all corners of the country.
Established in 2012, SLAYS is a multi-disciplinary team of young scientists and professionals in Sri Lanka who believe that young scientists in the country should play a key role in producing impactful research and safeguarding the quality of research now and in the future. Their international conference is centred around 'Research for Impact: March of the Sri Lankan Young Scientists'. This is a continued theme from previous years, and highlights the greater cause and commitment of the young science community towards pursuing research that leads to impactful outcomes – creating new knowledge, economic gains and improving society.
According to the incumbent President of SLAYS, Dr. Chamindri Witharana, who organized this year's conference along with her team, 'We want to empower young researchers by promoting research, sharing best approaches for impactful research and providing networking opportunities'. The event was highly anticipated, and registrations closed early due to exceeding maximum capacity. Several globally acclaimed and eminent international and Sri Lankan scientists and leading industrialists were invited to share their experience and knowledge to an audience of over 170 participants.
Inauguration: Importance of Impactful Research
The conference inauguration kicked off with an impressive line-up of leaders in the field of science in Sri Lanka. The inauguration was graced by the chief guest Eng. Sanath Panawenna, Director General and CEO, Arthur C Clark Center for Modern Technologies, Senior Professor Chandrika N Wijeyaratne, Vice-Chancellor, University of Colombo, Dr. Ranjith Mahindapala, President, National Academy of Sciences of Sri Lanka and Prof. Ananda Jayawardena, Director General, National Science Foundation. All the speakers delivered insightful and motivating addresses on the importance of creating impactful research for the development of the country.
This was followed by the keynote speech by Dr. Sahal Yacoob, an internationally acclaimed particle physicist from the University of Cape Town, South Africa. He broke down the complex world of particle physics, and discussed challenges that developing countries face with research, emphasising on the responsibility that scientists bear to create impact in their own countries.
Sessions 1 & 2: Approaches of Impactful Research
The first main session of the day was chaired by Dr. Chamindri Witharana, and featured two international speakers addressing essential aspects of research. Prof. Linehard Schmitz, Professor of Biochemistry, University of Giessen, Germany, gave an eye-opening talk on 'How to Pitch Your Research', imparting recommendations to young researchers on selecting and conduct research. This was followed by an in-depth look by Dr. Jennifer Sjölund, Scientific Programme Coordinator, International Foundation for Science, Sweden, on 'Empowering Young Researchers: Tips for Winning Grants', who gave insights on how grant providers review proposals. The session was rounded up by Dr. Nandadasa Narayana, Founder Chairman, Flexport Innovation, a legendary innovative entrepreneur in Sri Lanka who shared his experiences.
Dr. Laalitha Liyanage, Secretary, SLAYS, and Ms. Jivendra Wickremasinghe, Conference Secretary, SLAYS, chaired the second main session of the day, featuring an array of experts. Prof. Amala de Silva Professor of Economics, University of Colombo, spoke on research as an element of policy formulation, while Dr. Dilru Ratnaweera, General Manager – Head of Discovery Labs, MAS Holdings, gave an exciting talk on 'Innovative Thinking', and encouraged young scientists to connect with Twinery by MAS, the innovation arm of the manufacturing giant in Sri Lanka, for collaborative innovations. Dr. Miyuru Chandradasa, Consultant Psychiatrist and Senior Lecturer, Faculty of Medicine, University of Kelaniya) delivered a useful and well-received talk on 'Balancing Lab and Life', tackling the struggles of stress during research. Dr. Asanka Pallewatte, President Elect of SLYAS, wrapped up the session by sharing plans of SLAYS' pioneering outreach program towards society. Both sessions were followed by panel discussions, spurring insightful dialogue with the audience.
3MT Grand Finale Competition and Awards
In addition to these sessions, the SLAYS conference also hosted the highly anticipated grand finale of the "3-minute thesis presentation competition-3MT®" for MPhil/Ph.D. students. Conducted under the guidance of the University of Queensland, Australia who is the innovator and developer of the 3MT®, SLAYS successfully hosted this competition for the third consecutive time in Sri Lanka. The preliminary rounds were held earlier on the 17th and 18th of September 2019 at the National Science Foundation, where 10 finalists were shortlisted by an independent expert judging panel. Attracting determined postgraduate students from universities across the country, these finalists had the challenging task of presenting their thesis work in just three minutes.
Ms. Sathya Sambavathas from University of Jaffna emerged winner for her research on 'Sri Lankan Spices for Alzheimer's'. She was awarded an attractive cash prize of USD 1,000/- generously donated by Mrs. Maithree Perera, and will have the opportunity to represent Sri Lanka at the next Asia-Pacific 3MT Competition. The first runner up was Ms. Gayani Imanthika Dias (Sabaragamuwa University), while Ms. Chathurika Munasinghe (University of Peradeniya) was the second runner up. The People's Choice award, sponsored by Hayleys Aventura went to Ms. Hemavaruni Nisansala Fernando (University of Jayewardenepura) who showcased her work on 'Antimicrobial Activity of Garcinol Mediated Metal Nanoparticles and Metal Complexes'. The awards were presented by the Chief Guest of the 3MT ceremony, Prof. Mohan Munasinghe (Founder Chairman of the Munasinghe Inst. of Development (MIND); Vice-Chair of the UN Intergovernmental Panel on Climate Change), Guest of Honour, Prof Rohan Samarajiva (Chairman, ICT Agency of Sri Lanka; Founding Chair, LIRNEasia) and Mr. Wasaba Jayasekera (Managing Director, Hayleys Aventura).
SLAYS was sponsored by Hayleys Lifesciences, the largest business conglomerate in Sri Lanka; Biomedite, supplier of innovative medical devices, analytical equipment and life sciences products,  Twinery by MAS, Orange and Sri Lanka Convention Bureau (SLCB). These affiliations with the industrial side of science will ensure getting research into practice research with impactful gains in society and the economy and a good opportunity for young scientists to expand their networks with industrial experts as well. In addition, NSF (National Science Foundation) awarded SLAYS the International Partnerships for Science and Technology (IPSAT) grant.
Written by Dimuthu Sachiko de Silva based on information provided by Dr. Chamindri Witharana, President of SLAYS
View more Photos on FOS Media