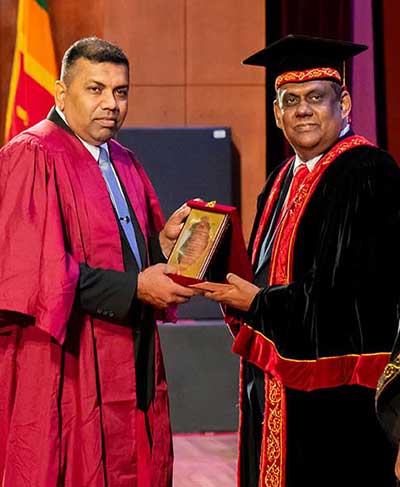 Vice Chancellor's Awards for Research Excellence 2021
The Vice Chancellor's awards for Research Excellence acknowledge academic staff members who make contributions to the University community through their outstanding research works. This year, nine awards were awarded to the following recipients during the Postgraduate Convocation 2021 on the 02nd of March 2023 at the Bandaranaike Memorial International Conference Hall.
Professor Mohamed Mahees is attached to the Department of Sociology, Faculty of Arts. He received his school education from Kuliyapitiya Muslim Vidyalaya and Madeena National College of Naramamala. He earned his Bachelor's degree (Hons) in Sociology from the University of Peradeniya in 1999 and his Master of Arts in Environmental Sociology from the University of Colombo in 2007. He obtained his PhD in Water Resource Management from the Postgraduate Institute of Agriculture, University of Peradeniya in collaboration with the Crossing Boundaries Project of Netherlands in 2011. Prof. Mahees also possesses a Postgraduate Diploma in Counseling which he acquired in 2018 from the Faculty of Education, University of Colombo. He has been engaged in teaching, publishing and other academic works trilingually since 2000.
He has published a number of research papers locally and internationally in the fields of environmental sociology, water resources management, political ecology, disaster politics, human-wildlife conflicts, social harmony, volunteerism, and student counseling. Prof. Mahees has published five books: Environmental Movements in Sri Lanka in 2010, Development Sociology in 2019, Environmental Politics in 2020, Sociology of Social Problems in 2021 and Sociological Theory in 2021.
Prof. Mahees is the current President of the Arts Council of the University of Colombo and the President of the Colombo University Teachers' Association. He is also the Director of the Social Policy and Analysis Centre. He was a former Senior Student Counselor for the University of Colombo. Prof Mahees is the Coordinator for Postgraduate Diploma in Counseling and Psycho-social Support at the Faculty of Graduate Studies. He was also the former Postgraduate Coordinator for the Department of Sociology.
Professor Samudra Kumari Senarath is attached to the Department of Educational Psychology, Faculty of Education. She received her school education from Kegalle Bandaranayake Vidyalaya. She obtained her B.A. Hons in Psychology from the University of Peradeniya in 1999 and has engaged in teaching, research, and other academic works since 2001 at the University of Colombo. She completed her Postgraduate Diploma in Education from the Faculty of Education, University of Colombo in 2002, M.A. in Education from the University of West England in 2005, UK and Doctorate in Doctor rerum in Natural Science in Psychology with Counseling from the University of Leipzig in 2009, Germany.
She has published a number of research papers and book chapters locally and internationally in the fields of educational psychology and counseling psychology; learning disabilities and the psychological adjustment of dyslexic children; special education and teacher awareness; self-esteem and gifted children; natural disaster psychological issues and student counseling; student exam stress and counseling. Professor Samudra has also published several books related to psychology and counseling.
With approximately 22 years of experience in teaching undergraduates and postgraduates at the Faculty of Education, Professor Samudra held different positions such as: as the Head of the Department of Educational Psychology, Acting Dean of the Faculty of Education, Academic Warden, and Coordinator for the postgraduate diploma in counseling at the Department of Educational Psychology. She was also served as a student counselor since 2002, providing psychological counseling for university students with various psychological, educational, and family-related problems. She is currently working as a psychologist for the national and international community.
Professor Sampath Kehelwalatenna completed his primary and secondary education at Jinaraja College, Gampola. He entered Faculty of Management & Finance in 1999 to read for the Bachelor of Commerce Degree. He has been continuing his association with the University by joining the academic staff in 2005. Professor Kehelwalatenna obtained his postgraduate qualifications such as a Master of Business Administration from the University of Colombo and a Doctor of Philosophy from the University of Brunei. He has published research papers in internationally reputed journals and presented research findings at many international research conferences. Out of them, a paper presented at the 19th International Business Research Conference held at Monash University, Australia has won the best paper award.
During his 17 years of academic career, Professor Kehelwalatenna has contributed to the Department, Faculty and University in numerous ways by serving in various academic, administrative and voluntary positions such as Student Counsellor, Senior Treasurer of the Student Union, Coordinator of the Master of Business Administration in International Business Programme, Coordinator of Academic Affairs Unit, Project Coordinator of AHEAD Project of the Department of Accounting, Editor of Colombo Business Journal, Secretary of the Ethics Review Committee of the Faculty, and Head of the Department of Accounting.
Professor Ranil Jayawardena is a Professor in nutrition from the Department of Physiology, Faculty of Medicine. Following his graduation from the Faculty of Medicine, University of Colombo, he completed his MSc from the University of Glasgow, UK and subsequently his PhD at Queensland University of Technology, Australia. He is one of the leading practitioners in nutrition in the country.
Professor Jayawardena's research interests lie primarily in the areas of clinical nutrition, non-communicable diseases and lately on COVID-19. He has a vast array of research experience which includes multi-national research collaborations, drug trials, national wide epidemiological surveys, systemic reviews and meta-analyses. This Vice-Chancellor award was considered for research conducted between 2019 to 2021 which was a very challenging time for Sri Lankans due to many reasons. Despite the COVID-19 pandemic's hardships, professor Jayawardena was quite productive and published over 50 full papers in international journals, and two books, and was granted two patents in these three years.
He has an H-index of 41 and over 10000 citations. At a young age, he was listed as the top two most cited researchers from all current researchers from the University of Colombo and also received around 50 research awards including several presidential awards. He was named the "Top Outstanding Young Person in Medical Research" in 2014 by the Junior Chamber International. In 2018 he won the "Country Prize" as the best Young Scientist from the World Academy of Science, Trieste, Italy. He was awarded the CVCD Excellence Award for the most outstanding young researcher in 2018 making him the only academic in the University of Colombo with all three young national-level awards. Since joining the University of Colombo,
he has received senate awards continuously and this is his second consecutive Vice-Chancellor award for research excellence. Recently, Professor Jayawardena was ranked among the World's Top 2% Scientists in the 2021 List of outstanding researchers prepared by Elsevier and Stanford University, USA. The presentation of the University of Colombo – Vice-Chancellor's Award for Research Excellence – 2021 (Faculty of Medicine) is indeed a tribute to this eminent scholar.
Vice Chancellor Sir, I have the honour of presenting to you Professor Ranil Jayawardena for the conferment of the Faculty of Medicine Vice Chancellor's Award for Research Excellence for the year 2021.
Dr Gnanaselvam Kisokanth entered the University of Sri Jayewardenepura in 2015 as an undergraduate in the BSc Nursing Degree program (First Batch Sri Lanka) and obtained Second Class, Upper Division. Then, he joined to Faculty of Health Care Sciences, Eastern University Sri Lanka as an academic till 2019 and then continue his career at the Faculty of Nursing, University of Colombo. Dr G Kisokanth received his PhD Degree in 2017 from the Faculty of Graduate Studies, University of Sri Jayewardenepura.
At present, Dr G Kisokanth serves as a Senior Lecturer and Head of the Department, at the Department of Clinical Nursing, Faculty of Nursing, and has been appointed to several academic and administrative positions. Further, Dr Kisokanth's expertise includes Diabetes Nurse case management and Diabetes Education. He has published several books and also numerous research articles in locally and internationally reputed journals. In addition, He received several research awards, including Senate Awards for Research Excellence under the Early Career Category for consecutive 3 years.
Shyam Sanjeewa Nishantha Perera is the Chair Professor of Mathematics and the Head of the Department of Mathematics. He holds a First-Class Honours degree in BSc Mathematics, a PG Diploma in Modeling & Complex Realities, a Master of Science (by research) in Mathematical Modeling and a PhD in Mathematics.
Professor Perera has authored about 90 international peer-reviewed journal publications and has authored 140 presentations at national and international conferences and 15 book chapters. He has received numerous research awards including the NRC Merit Award 3 times, the NSF SUSRED Award two times, the SLAAS Merit award in 2010, the University of Colombo Vice Chancellor's Award for Research Excellence in 2018, the University of Colombo Senate Award in 6 times, Faculty of Science Research Excellence Award on 4 times. He was awarded Junior Associate Membership in recognition of multidisciplinary research activity by the Abdus Salam International Centre for Theoretical Physics (Italy) and ERASMUS MUNDUS MAHEVA Fellowship in 2011. He has supervised 10 PhDs and 02 MPhils. Professor Perera received his primary education at Sri Devananda Vidyalaya Ambalangoda and secondary education at Royal College, Colombo.
Professor WS Chandrasekara currently serves as the Director of the Institute of Human Resource Advancement (IHRA). Professor Chandrasekara has completed his first degree, BA in Sociology (honours) from the University of Colombo, MSSc in Sociology from the University of Kelaniya, and Postgraduate Diploma in Development Studies from the Open University of Sri Lanka and Ph.D. in Administrative Management from Huazhong University of Science and Technology, China. He has introduced new programs, Diploma in Counseling Psychology, Higher Diploma in Counseling Psychology and Postgraduate Diploma in Counseling Psychology. Professor Chandrasekara has published several academic books, and book chapters and has published papers in national and internationally indexed journals and presented papers at many national and international conferences. He has obtained several awards and research grants such as the Award of FES/SLF Research Fellowships for Young Researchers, the Merit Award for Scientific Publication in 2010 and the Presidential Award for Scientific Researcher in 2009 by National Research Council (NRC). Further, Award of 'Honorary International Graduate' for best achievements in 2017 graduation from Huazhong University of Science and Technology, Wuhan, China.
Professor Pathirage Kamal Perera graduated from the Institute of Indigenous Medicine, the University of Colombo in 2003 with honours, obtaining distinctions in Obstetrics and Gynecology in Degree of Bachelor of Ayurveda Medicine and Surgery. He completed his Master's Degree to PhD in Pharmacology at China Pharmaceutical University, Nanjing, China, and was certified as a Pharmacologist in China. He specialized in Pharmacology & Therapeutics, and Immunology. He has been certified and trained in Pharmacovigilance and Drug Safety at the WHO Collaborating Centre of Uppsala Monitoring Centre (UMC), Sweden. Further, he obtained post-doctoral training in clinical drug development and achieved the Diploma in Research & Development of Products to Meet Public Health Needs, Nagasaki University Japan. Currently, he is a full member of the British Pharmacology Society in the United Kingdom. He joined the Institute of Indigenous Medicine University of Colombo in 2006 as a Probationary Lecturer and subsequently promoted to Senior Lecturer grade one.
He was promoted to Professor in Ayurveda Medicine in 2020 as the youngest who was promoted to Professor in Ayurveda Medicine in Sri Lanka. He also serves as an honorary consultant Physician at National Ayurveda Teaching Hospital in Colombo. He extends his service globally as a Visiting Professor at the Management and Science University in Malaysia. Professor Perera served as a senior consultant to the World Health Organization on a project on "A review of traditional medicine research in Sri Lanka: 2015–2019" and a Project on "intellectual property rights (IPRS) and trade in traditional medicines (TM) in Sri Lanka, 2015". He is a leading clinical researcher and clinical trialist in the fields of herbal pharmacology, immunology and medicine, Ayurveda medicine, traditional medicine, and integrative medicine in Sri Lanka.
He together with his students and colleagues has been the recipient of awards for research excellence and innovation at university, national and international levels including the NRC Merit Awards, Vice Chancellor's Research Award in 2016, 2020 and the University of Colombo Senate Research Awards in 2016 .2019, 2020 and 2021. Apart from supervising undergraduate research, he has supervised 20 research degree students including 08Ph.D. and 02MPhil, 04MD, and 06MSc research thesis. Professor Perera has over 75 original research publications in Science citation indexed and refereed journals, 130 abstract presentations, 04 books, 09 book chapters in international scientific books, 06 commissioned reports, and 04 herbal product innovations, and commercialization.
Dr Dinesha Samararatne has devoted her career in academia for the study, instruction and engagement in the field of public law. Her work examines questions relating to the evolution of Sri Lanka's common law, fundamental rights jurisprudence, fourth-branch institutions, constitutional reform, public participation in constitution-making, the legal profession, rights of women with disabilities and women's rights. Dr Samararatne read for her Bachelor of Law degree at the University of Colombo (2001-2005), for her Master's degree at Harvard Law School as a Junior Fulbright Scholar (2008-2009) and for her PhD at the University of Colombo (2010-2014). Since then, Dr Samararatne has been awarded an Australia Awards Fellowship (2015), has been a Kathleen Fitzpatrick Visiting Fellow at the Melbourne Law School of the University of Melbourne (2018) and worked as a Postdoctoral Fellow of the Laureate Program of Comparative Constitutional Law also at the Melbourne Law School (2019, 2020) and secured other awards for her achievements and contribution.
Dr Samararatne has published 11 articles single-authored and co-authored in peer-reviewed and indexed journals including leading journals in law. She has published 4 articles in non-indexed journals, published 6 book chapters in edited volumes published by international publishers. Dr Samararatne has made a significant academic contribution within Sri Lanka as well and has published 7 chapters in publications by local institutions. Dr Samararatne's work had been cited widely, including in the Oxford Handbook of Children's Rights Law and the Oxford Handbook of Women, Peace and Security. She has presented her work locally and internationally throughout her career.
Dr Samararatne has contributed extensively to the institutional development of the University, including to the establishment of the Legal Aid Unit at the Faculty of Law. She contributes regularly to public debates and serves the global academic community through several formal and voluntary initiatives.
Media Courtesy: Fos Media