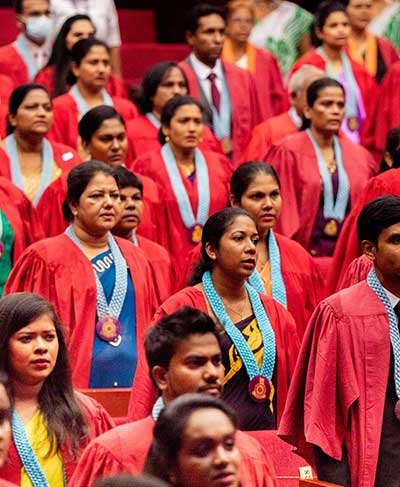 Postgraduate Convocation 2021
University of Colombo conducted its Postgraduate Convocation for the year 2021 at the Bandaranaike Memorial International Conference Hall on 01st and 02nd March 2023 under the patronage of the Venerable Chancellor, Sasana Keerthi Sri Buddha Sasana Shobhana Venerable Muruththettuwe Ananda Nayaka Thero, with the Vice Chancellor- Senior Professor (Chair) H.D. Karunaratne, Rector, Deans, Directors of the Institutes, Registrar, Acting Bursar, Acting Librarian, Heads of the Departments and Administrative and Finance Officers.
His Excellency Mr Gopal Bagley, the High Commissioner of India to Sri Lanka, Mr Yamada TETSUYA, Chief Representative of the Japan International Cooperation Agency (JICA) in Sri Lanka, Professor Sirimal Abeyratne of the Department of Economics in the Faculty of Arts, Dr Anush Amarasinghe, Managing Director of BPPL Holdings PLC, Professor Kshanika Hirimburegama, Former Ambassador to the French Republic and Sri Lanka's Permanent Delegate to UNESCO, and Professor Preethi Udagama of the Department of Zoology and Environmental Science in the Faculty of Science delivered their addresses at the ceremony.
During this ceremony, a total of 3621 degrees were conferred, including postgraduate diplomas, master's degrees, and research degrees across seven different sessions. Additionally, nine Vice Chancellor's Awards for Research Excellence were presented.
SESSION
POSTGRADUATE DEGREE /DIPLOMA
NO. OF GRANDAUNTS
01st March 2023
Session I
Sri Palee Campus, Faculty of Arts, Faculty of Education and NILIS
Postgraduate Diploma
112
Master's Degree
402
Session II
Faculty of Law, Postgraduate Institute of Medicine and University of Colombo School of Computing
Postgraduate Diploma
275
Master's Degree
248
Session III
Faculty of Management & Finance and Faculty of Science
Postgraduate Diploma
82
Master's Degree
397
Executive Masters
10
02nd March 2023
Session I
Faculty of Graduate Studies
Postgraduate Diploma
186
Master's Degree
312
Session II
Faculty of Graduate Studies and Institute of Biochemistry, Molecular Biology & Biotechnology
Postgraduate Diploma
3
Master's Degree
508
Session III
Faculty of Medicine and Institute of Human Resource Advancement
Postgraduate Diploma
52
Master's Degree
463
Session IV
Faculty of Arts, Faculty of Education, Faculty of Graduate Studies, Faculty of Law, Faculty of Medicine, Faculty of Science, Institute of Biochemistry, Molecular Biology & Biotechnology, University of Colombo School of Computing and Postgraduate Institute of Medicine
Master of Philosophy
30
Doctor of Medicine
482
Doctor of Philosophy
59
Total
3621