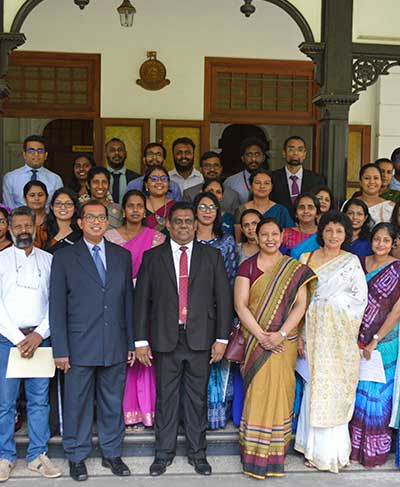 CTHE certificate awarding Ceremony of the 24th batch
The CTHE certificate awarding Ceremony of the Staff Development Centre (SDC) was successfully conducted on 7th March 2023 at the Senate Hall, College House. This was the 24th batch of the CTHE program conducted by the SDC. The ceremony was graced by the Vice-Chancellor, Senior Professor (Chair) H.D. Karunaratne and he emphasized the importance of converting the SDC as the Human Resource Development Centre (HDC) to cater to the training needs of all 5 categories of employees in the University of Colombo, namely, Academic Staff, Administrative Staff, Academic Support staff, Non-academic staff and contract & casual employees. So far, training programs of the SDC have been limited only to academics who followed the CTHE program and rarely conducted senior level academic training programs. Since all are facing a bunch of crises in Sri Lanka, he proposed to conduct at least one training program per each category of employee this year.
Further, Professor Karunaratne pointed out the Importance of networking, teamwork, collaborations and corporations as well as frequent training programs to increase the labour productivity of the University of Colombo. Professor Maduka Udunuawara, recently appointed Director to the SDC also graced the occasion.