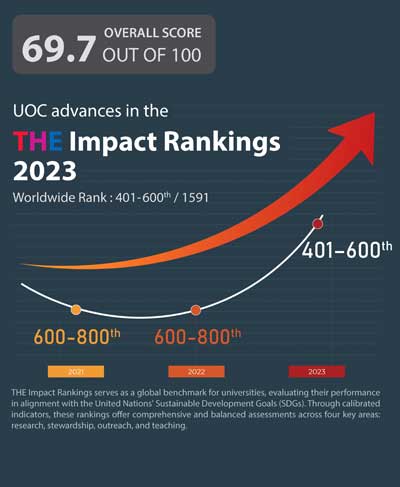 UOC Advances in THE Impact Rankings 2023
The Times Higher Education (THE) released the fifth edition of THE Impact Rankings on the 1 of June 2023. This year, the overall ranking includes 1591 universities from 112 countries/regions. THE Impact Rankings serves as a global benchmark for universities, evaluating their performance in alignment with the United Nations' Sustainable Development Goals (SDGs). Through calibrated indicators, these rankings offer comprehensive and balanced assessments across four key areas: research, stewardship, outreach, and teaching.
The University has made significant progress in its ranking, moving up from a previous position of 601st to 800th to now securing a place between 401st and 600th among worldwide universities. This improvement reflects the gradual enhancements made over the past few years.