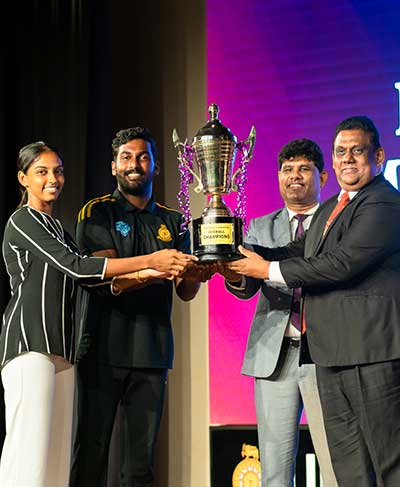 Faculty of Management & Finance Emerges as Inter-Faculty Overall Champions 2023
The Awarding Ceremony of the Inter-Faculty Championship celebrated the remarkable achievements of undergraduate sportsmen and sportswomen from the university. For this year's ceremony, 400 talented students were recognized for their exceptional performances at the Inter-University Championships, as well as at the national and international levels in 2022. The Inter-University Championships showcased a diverse range of twenty-six sports, including 25 men's events and 22 women's events, which took place from April 29th to May 4th, 2023. Furthermore, additional sports items were introduced to the championship, including Beach Volleyball (Men/Women), Softball Cricket (Women), Football (Women), Tag Rugby (Women), Weightlifting (Women), and Boxing (Men).
The Awarding Ceremony was held under the patronage of the Chief Guest, Vice Chancellor Senior Professor (Chair) H.D. Karunaratne at the New Art Theater (NAT) on June 1st, 2023. The Rector of the Sri Palee Campus, Deans of Faculties, the Chairman of the Sports Advisory Board Dr Kapila Bandara, and staff members participated in this event. The Faculty of Science emerged as the winner of the Women's Overall Championship, while the Faculty of Management & Finance won the Men's Overall Championship. The Faculty of Management & Finance secured the Inter-Faculty Overall Championship with 413 points, while the Faculty of Science, and the Faculty of Medicine were awarded the overall second place with 411 points and overall third place with 270 points, respectively.
Media Courtesy: FMF Media | Colombo Beacon