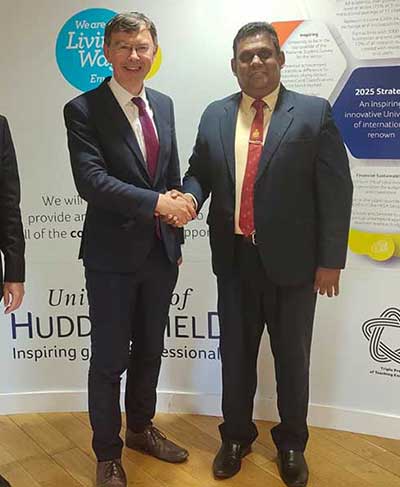 University of Colombo and the University of Huddersfield, United Kingdom Initiated Discussion on University Collaboration
A team of University administrators including Senior Professor (Chair) H.D. Karunaratne, the Vice chancellor of the University, Professor Lasantha Manawadu, the Dean Faculty of Arts, Dr Pradeep Pieris, the Head of the Department of Political Science, Dr Nishara Fernando, Professor in Sociology visited University of Huddersfield, United Kingdom and initiated further discussion on university collaboration. Professor Alistair Sambell (Pro-Vice Chancellor -International), Professor John Anchor (Associate Dean, International), Mr Tom Vaughan (International Development Officer and Business Development), Ms Marlene Lieske (Engagement Coordinator), and Dr Kinkini Hemachandra, participated representing the University of Huddersfield's Business School.
They discussed potential future exchanges of postgraduate and undergraduate students between the universities, as well as opportunities for research collaborations. This has happened during the disaster risk reduction (DRR) and climate change adaptation (CCA) training program conducted by the University of Huddersfield. Professor Dilanthi Amaratunga, Professor Richard Haigh, and Dr Chamindi Malalgoda of the University of Huddersfield organized and conducted the CAA-DRR programme from 26th June to 8th July 2023.