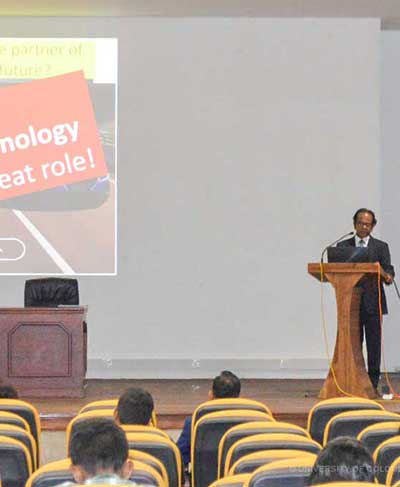 The Road to a Nation of Science and Technology: The 6th JICA Chair Session
The sixth session, of the JICA Chair program, an initiative on the Japanese modernization process experience sharing through a series of lectures in collaboration with the Japan International Cooperation Agency (JICA) Sri Lanka Office and the International Office of the University of Colombo was held on 18 January 2023 at the Auditorium of the Faculty of Graduate Studies (FGS). The title of the session was "The Road to a Nation of Science and Technology". Undergraduates attached to the Departments of Economics and International Relations at the Faculty of Arts and the Departments of Business Economics and International Business at the Faculty of Management and Finance of the University of Colombo were present.
A video on how advancement in science and technology has paved the way for Japanese modernization was presented by Dr Hasegawa Mariko, President, The Graduate University of Advanced Studies. The local resource person of the session was Professor Ananda Kumara, President/Vice Chancellor of Lanka Nippon Biz Tech Institute. Professor Ananda Kumara's presentation captured the learnings Sri Lanka could borrow from Japanese science and technological innovations. The Vice Chancellor of the University of Colombo, Senior Professor (Chair) H.D. Karunaratne and Professor S. Chaminda Padmakumara, Head, Department of International Relations of the Faculty of Arts, Mr Krishmal Fernando and Ms Poornima Gamage, Assistant Lecturers from the Department of International Business, Faculty of Management and Finance and the representatives from the JICA Sri Lanka Office also joined the session. The moderator of the session was Dr Sashika Manoratne, Director of the International Office.