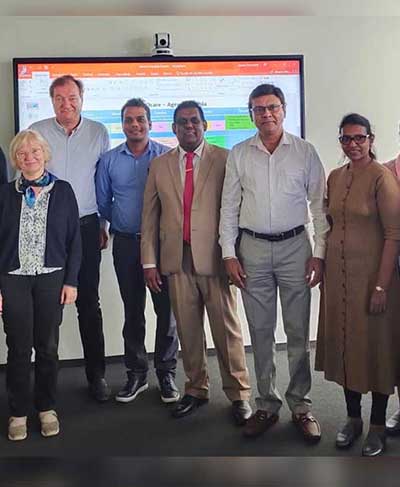 nEUROcare Project of the Faculty of Nursing
nEurocare project is the European initiative capacity-building project for nursing education in Sri Lanka while meeting the challenges of caring for people with Neurodegenerative Disorders in Sri Lanka. This project was established as the first international grant project in the Faculty of Nursing in 2022. The Faculty of Nursing at the University of Colombo is the first cradle of nursing education in the university system in Sri Lanka, and it is the youngest faculty at the University. The aim of this project is to develop new and innovative courses and methodologies in healthcare, in order to develop human capacities in the field of Neurodegenerative disorders within the four, selected higher education institutions in Sri Lanka.
This timely significant project is mainly coordinated by the Faculty of Nursing, University of Colombo the main partner University from Sri Lanka with Kristianstad University Sweden, the main partner university from Europe. Other partner European universities that are involved in this project include Triskelion University in Norway, the University of Ljubljana in Slovenia, the University of Tartu in Estonia, and Neapolis University Pafos in Cyprus. On the other hand, the other partner universities invited from Sri Lanka include the University of Peradeniya, the University of Ruhuna, and the General Sir John Kotelawala Defence University.
Under this project, there are a series of international workshops and conferences that have been scheduled to develop postgraduate level course modules in nursing care education specializing in Neurodegenerative disorders. The second international workshop was held at Kristianstad University Sweden in May 2022, and the third international workshop was held at the University of Tartu in Estonia from 4th to 9th September 2022. This is the first initiative to develop postgraduate nursing education in Sri Lanka. Senior Professor (Chair) H.D. Karunaratne, the Vice chancellor of the University of Colombo, Professor Sudath Warnakulasuriya, Dean of the Faculty of Nursing, the country coordinator and the project manager on behalf of the main partner University in Sri Lanka attended this event with three senior lecturers and project members from the Faculty of Nursing namely, Dr G Kisokanth, Ms Shiroma Malkanthie, and Mrs Chandrani Herath.