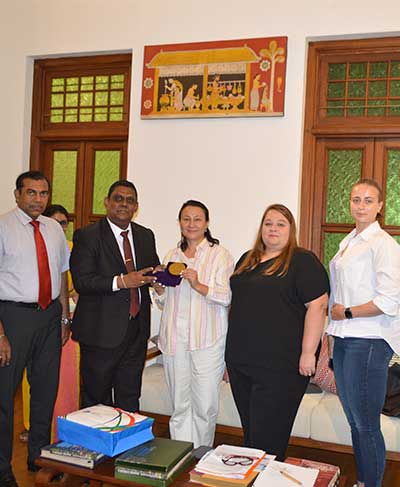 People's Friendship University of Russia [RUDN], Russia
A group led by Ms Larisa Efremove, Vice Rector for International Affairs of RUDN University, Russia visited the University of Colombo on 26 September 2022 and met the Vice Chancellor, Senior Professor (Chair) H.D. Karunaratne. RUDN wishes to develop scientific and educational cooperation primarily in the field of Buddhist Studies between the two universities. During the meeting, both parties discussed the potential avenues for cooperation in the areas focused on Buddhist Studies, Performing Arts and International Law. RUDN delegation expressed their interest in strengthening their collaboration with the University of Colombo through staff/student exchange, and capacity building programs both online and offline modes.
The Rector of the Sri Pali Campus Dr Prathiba Mahanamahewa, The Dean of the Faculty of Science Professor Upul Sonnadara, Professor Wimal Hewamanage, Department of Buddhist Studies, The Director, International Office Dr Sashika Manoratne, and The Senior Assistant Registrar of the International Office Ms Tharanga Dassanayake also participated at the meeting. The Meeting was organized by the International Office.