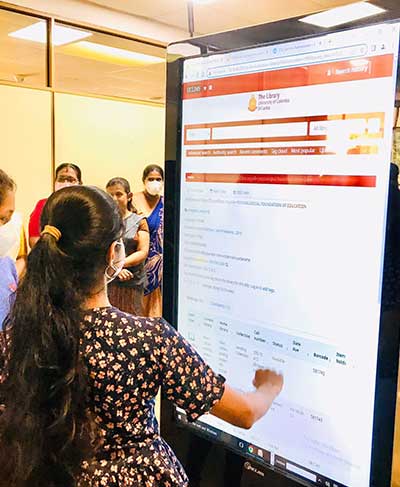 Launching the Library Information Management System (UCLIMS)
The Main Library is pleased to announce, the "University of Colombo Library Information Management System" (UCLIMS) is open for all undergraduates, postgraduates, researchers, academic, administrative and non-academic staff of the University of Colombo from the 26th of September 2022. The launching ceremony was held at the main library with the presence of the Vice Chancellor, Senior Professor (Chair) H.D. Karunaratne, as the Chief Guest and the Deans, Directors, the Deputy Librarian of the University of Ruhuna and students of the University of Colombo along with the Acting Librarian, Academic, Administrative & Non-academic Staff of the Main Library also participated.
The system facilitates to increase in the visibility of the collections in all libraries; supports all stakeholders to use the library resources without any limitation; reserve the book when needed, send purchase suggestions, log in to this system remotely, and search facilities in Sinhala/Tamil /English, so on.
The UCLIMS can be accessed here. http://opac.lib.cmb.ac.lk