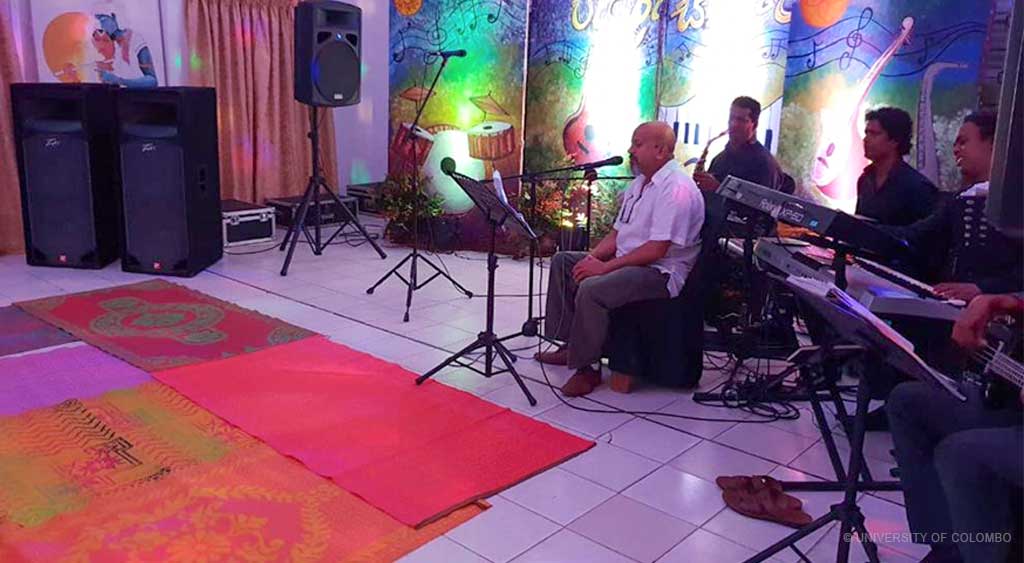 Faculty Club Paduru Party
Against a very anti-FC weather forecast, the Faculty Club embarked on its fun-loaded Paduru Party on Friday, 25th October '19.  It was a gamble, as weeks to the party, and worse, just days to the Padura, what greeted all was an irritated, gloomy overcast sky that unleashed sporadic, intensive downpours beating all past records of rainfall.  Despite the odds, arrangements for the funfair got on to high action gear, including a last-minute facelift to the FC interior.  By Friday evening, all set for the event with everyone's eyes on the sky, and concerned attention on the weather forecast. On Friday, by 6.30 pm, members began arriving, much to the delight of the organizers, in real FC spirit, braving the gloomy skies above.  Determination over earthy power, mighty weather god finally appeared to have relented in the face of a highly spirited gathering who seek to share one common goal in its true denomination, "let's have fun, hell or high waters".
Guests trickled in one by one, with quite a number in informal redi-attire, gentlemen in sarongs and ladies in lungi, who responded to a request made by the Exco for a "dress code". At the entrance, each guest received an orchid-faced araliya or nikan-white araliya (with no distinction as to who gets what), gents had them tagged to their attire, ladies had it placed beautifully on their hair. Around 7 o'clock, all assembled in the main hall of the FC which had a beautifully well-decorated backdrop, specially made for the occasion, which incidentally was created by a readily- volunteered bunch of undergraduates.  In the main hall of the FC, a 5- piece black attired orchestra assembled ready to produce music demands of all kind.  The hall had hired chairs dressed in black-cloaks, reminiscent of a "chair-graduate" ceremony, or a "school" of emperor penguins, while the food was served at source at the entrance with a conspicuously visible tray full of fine pineapple slices. The black chairs extending to the deep-end of the hall soon had resonated into a pic of a Canadian country-side in autumn, with 80 odd exuberant FC-ians in vibrant party wear.  In the middle up to orchestra boundary, the "middle kingdom", had well-grounded paduru laid, and that was where the Exco of the FC sat "comfortably", possibly a decision "by Xco-decree",  together with a bunch of enthusiastic redi-clad guests. Notwithstanding comforts or agonies endured by the FC-ians, the atmosphere was one that was awaiting to explode with song and rhythm.
The event commenced with the arrival of the Madam Vice-Chancellor who graced the occasion with expressed enthusiasm, and understandably it was her first outing at an FC social get-together after she assumed the responsibility as the VC and, even more graciously, that she made her presence despite she was due to attend the Medical Faculty 150th anniversary celebration on the same evening. After the customary talk rituals, the fun began with orchestra playing for the "Uni-Got-Talents" show.  It was truly amazing that academics who supposedly were not renowned as entertainers defied the anthropological odds to add a spectrum of great flavors of music, fun, and entertainment that all could remember for a long time.  In between songs were a novelty this time, the "Faculty-talks".  Though looked a bit shaky at the beginning, the humor picked up steam to erupt the hall into peals of laughter, and some picking up the humor belated (those who suffered tube-light syndrome) created ripples of laughter even after the talk was over. It surely added an extra flavor of funny-fun to a musically-charged ambiance in air.  In the meantime, food was served hot, especially hoppers straight from the pan, with a choice of egg / "plane" kinds at will.  Rice and curries were offered "cool", for the warm-blooded who incidentally walked in cool-nerved.
Slow music gradually accelerated to fast rhythms.  The floor opened and many were seen dancing to the tunes being played, and some, to hidden tunes which they refused to divulge, or only they knew where it came from.  Many tried their hidden talents, it was most unraveling.  Couples (not so young) sang as if they were they were just into their romantic relationships. By then, the middle kingdom had turned into one hell-of-a floor of dance that merged all into one big spinning wheel, with some dancing vertical while others moving horizontally. A physics professor commented, "Wow, its 4 dimensions in visual space". At a distance, the gravity-defying dance created the picture of villagers dancing on raw seeds to separate nuts from the skin. After all, the party offered something for anyone who has a grain of imagination of artistic thought. The party continued into the middle of the night, yet the energy, enthusiasm, and the fun refusing to concede.  Several were seen explaining to their anxious beloveds at home as to why they were still stuck at the party.  Undoubtedly, FC Padura created an evening where fellowship was at its best and informality at its highest with hierarchy disappearing into the night sky. All good things need to end at some point. All parted, with fellowship energies well settled in their hearts and memories blending with their souls, as some walking lighter in a gravity-less space, while others leaving with a heavy-heart cursing Einstein for not allowing time-travel, muttering "it was a mad evening wisely-spent".