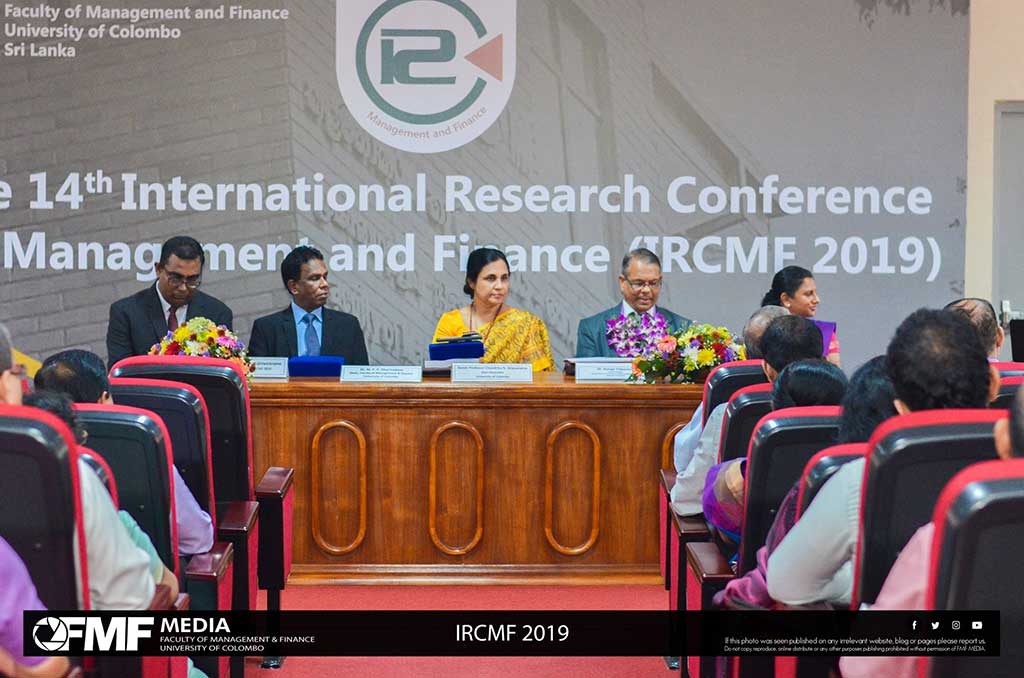 14th Annual International Research Conference on Management and Finance
The International Research Conference on Management and Finance (IRCMF) organized by the Faculty of Management and Finance, University of Colombo was held on 25th October this year for the 14th consecutive time. Through this conference, the faculty continued its rich academic tradition by enabling academics of the management discipline to engage, debate, and present their on-going research work. This year the research papers were presented under several conference tracks such as Accounting, Business Economics and Finance, Human Resource Management, Management, Organization Studies and International Business, Hospitality, Marketing, and Tourism. In addition to the presentation of academic papers, the conference included the Doctoral Colloquium with the main conference, enabling current and prospective doctoral students to present their research ideas and obtain valuable feedback to progress in their research.
The keynote speaker of the conference was Dr. Asanga Thilakarathe – former Senior Chair Professor of Pali and Buddhist Studies of the University of Colombo. His keynote address was delivered on an interesting theme for management academics and practitioners: "Need for a Paradigm Shift: A Metta-based Approach to Business". The final feature of the conference was the session of 'Industrial Dialogue' hosted after lunch. This was organized to enable both academics and practitioners to bridge industry phenomena, concerns and trends by inspiring researchers with new research ideas, and also industry professionals to explore solutions to their contemporary organizational problems. This year the industry dialogue was on the theme of "Generations at Work: Understanding, Managing and Working with Generations Y and Z". Through a panel of experts (Ms. Chethna Liyanage – CEO Maharaja Institute of Management/ Director Talent Management, The Capital Maharaja Organization; Ms. Kshanika Rathnayaka – CEO Great Place to Work Institute Sri Lanka; Mr. Madu Ratnayake – Chief Information Officer Virtusa; Mr. Damith Jayasinghe – Chief People Officer 99X Technology) who had dealt with these two generations in various capacities. The panel of experts along with the audience explored different generations at work in different industries and how organizations can get a better understanding about these generations at work to meet the dynamic challenges they are facing.
View more Photos on
FMF Media