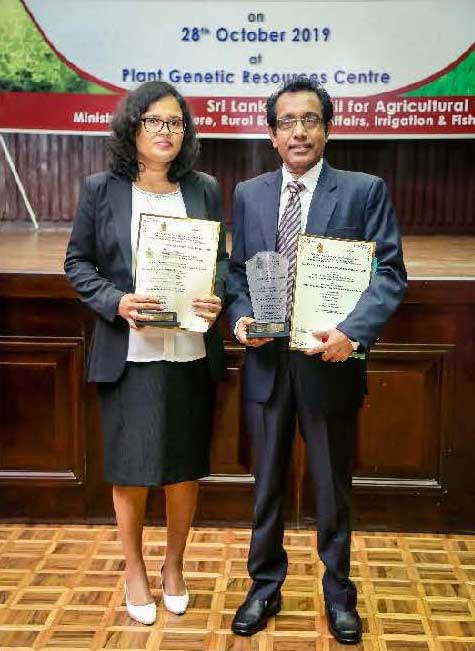 Dr Sirimal Premakumara and his team wins National Award for Research Excellence in Agriculture – 2019
Sri Lanka Council for Agriculture Research Policy, the umbrella organization of the National Agricultural Research System (NARS) that co-ordinates research and development institutes within several ministries of the country declared National Awards scheme for Research Excellence in Agriculture in 2004 to recognize outstanding achievements in agricultural research. Awardees are selected in four sectors, namely, Plantation, Non-Plantation, Fisheries and Livestock by an independent and competent panel of qualified professionals representing universities, the private sector and Government institutions with the support of three sectoral expert review committees appointed by the Council. The Awards Ceremony 2019 was held on 28th October at the Auditorium of Plant Genetic Resources Centre, Kandy with the participation of officials from institutes in the National Agricultural Research System and agriculture faculties of national universities. The chief guest of the ceremony was the Minister for Agriculture, Rural Economic Affairs, Irrigation, Fisheries & Aquatic Resources Development and guest of honour was the State Minister to this ministry (in absentia).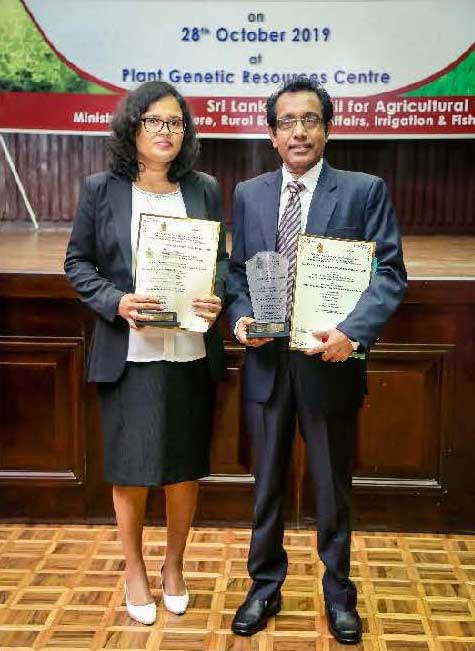 Dr. Sirimal Premakumara and his team won the 1st Place in Plantation Sector category for their outstanding work on "Bioactivities of Ceylon Cinnamon". Uncovering of health benefits of this age-old economic crop will add immense value to its global market as Sri Lanka supplies over 90% of the demand for True Cinnamon, Cinnamomum zeylanicum in the world. His studies were focused on uncovering biological activities of both cinnamon bark & leaf in relation to health food, neutraceutical and cosmeceutical properties focusing potential applications in preventive and management aspects of chronic noncommunicable diseases and skin protection. In this context, he has studied a range of bioactivities using in vitro and in vivo bioassay methods which included anti-diabetic, anti-inflammatory, anti-lipidemic, anti-cancer, anti-oxidant, anti-aging and skin protection properties. This study is the only study so far conducted in the world on biological activities of authenticated Ceylon cinnamon obtained from its original plantations in Sri Lanka. In parallel, he jointly conducted a clinical study with the Colombo Medical Faculty on a neutraceutical capsule developed by him from a cinnamon fraction, in diabetic patients. This study was proceeded to Phase III trial and concluded recently with very promising results in the management of blood sugar and lipid profile in diabetic patients. Dr.Sirimal Premakumara is a Senior Lecturer and Head of Department of Basic Sciences & Social Sciences of the Faculty of Nursing of Colombo University. He was the Director-General of CISIR (ITI), Sri Lanka.