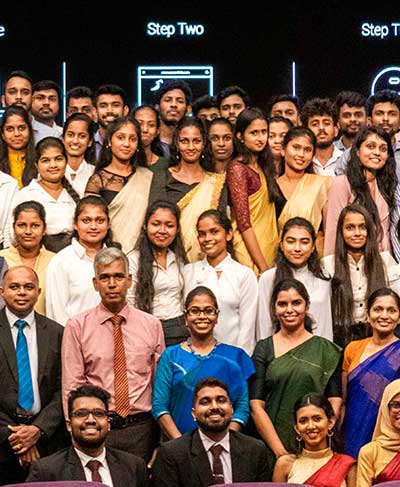 Opulentia 2023 – The Accounting Day
The 'OPULENTIA '23 – Accounting Day' organized for the first time by the Students Association of the Department of Accounting, marked a pivotal moment for the Department of Accounting and the entire Faculty of Management and Finance. The event was held on 9th August 2023, at the New Arts Theatre. The event saw a robust participation of over 250 undergraduates from the University of Colombo, alongside the invitees hailing from various other universities.
The Guest of Honor was bestowed upon Senior Professor (Chair) H.D. Karunaratne, the Vice Chancellor of the University. The event was graced by the presence of Professor M. P. P. Dharmadasa, the Dean of the Faculty of Management and Finance. Complementing this, the event welcomed Mr Dinesh Weerakkody, Chairman of the Board of Investment Sri Lanka, as its esteemed Keynote Speaker. The esteemed guests and the audience of the event were graciously welcomed by Dr Nuradhi K. Jayasiri, Head of the Department of Accounting, Faculty of Management and Finance. Enhancing the event's distinguished essence was the esteemed attendance of Mr Rolf Blaser, the Chief Executive Officer and Ms Pavitra Samarasinghe, the Chief Financial Officer of A. Baur & Co. (Pvt) Ltd. Their presence gracefully adorned the occasion as representatives of the Title Partner of the event. Moreover, Mr Yohan Thilakarathne, the General Manager of Corporate Communication of Diesel & Motor Engineering (DIMO) PLC and Mr. Dhammika Samarawickrama, the Chairman of the ME Group, graced the occasion as representatives of our esteemed sponsors.
Central to the occasion was an expert panel discussion of utmost relevance, graced by the presence of accomplished individuals in the field. These luminaries included Mr Suresh Gooneratne, who holds the dual roles of Director and Chief Financial Officer at DIMO PLC, Dr Nayana Digamma, the Executive Chairman and Managing Director of Epic Technology Group, Mr Dulitha Perera, Partner in the Advisory division at KPMG Sri Lanka and Mr Luxaman Perera, IT Consultant at the State Mortgage and Investment Bank. Guided by the overarching theme, "The Future of Accounting – Thriving in the Digital Age," the discussion was moderated by Professor Sampath Kehelwalatenna, infusing the event with a scholarly touch.
In addition, the event was further elevated by the remarkable talents of the undergraduates from the Department of Accounting. Their exceptional singing and dancing abilities infused vibrant energy and a sense of artistic flair into the proceedings. The 'OPULENTIA '23 – Accounting Day' brought together academia, industry leaders, and students to explore the intersection of accounting and the digital age, fostering a spirit of innovation, collaboration, knowledge-sharing and setting a precedent for future engagements that bridge the gap between theory and practice in the evolving landscape of accounting.
More Photos: Techno MEDIA