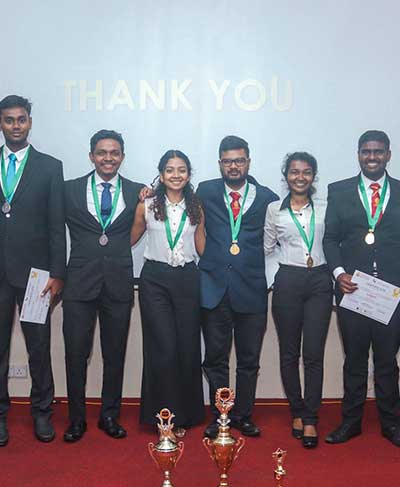 Magnate 2022 – Faculty of Management and Finance
The Department of Finance, Faculty of Management and Finance organised its flagship annual event 'Magnate-2022' for the second consecutive time under the theme of "Finance in a Dynamic World" which was held on 7th October 2022 at the Auditorium of the Faculty of Management and Finance, which was executed by the Finance Students' Association (FSA) with the primary objective to provide an opportunity for students' capability and capacity building. The Vice Chancellor Senior Professor (Chair) H.D. Karunaratne graced the event as the Chief guest and was accompanied by the Dean of the faculty Professor M. P. P. Dharmadasa.
It was an all-day event which comprised an inter-university debate with the participation of 6 university teams including the University of Colombo, University of Jaffna, University of Sabaragamuwa, Eastern University of Sri Lanka, and University of Sri Jayewardenepura, on the themes of "Tax increase will recover the economic crisis in Sri Lanka" in the semi-final round, and "Adoption of Fintech in emerging markets: an opportunity or a challenge for Sri Lanka?" in the final round. Also, an intra-faculty quiz competition took place successfully with the participation of 10 teams with three members each from the Faculty of Management and Finance, University of Colombo irrespective of their department or year of study.
Mr Ramesh Schaffter, The Chief Executive Officer of Janashakthi PLC attended the event as the Guest of Honour and the Keynote speaker of the event. Dr Ranil Sugthadasa, Senior Lecturer, at the University of Moratuwa conducted a very interactive eye-opening session on self-motivation. Magnate 2022 was organised under the direction and leadership of the Head, Department of Finance Professor D. L. P. M. Rathnasingha, and was coordinated by Dr E. M. Nishani Ekanayake. Dr S. Buvanendraa contributed as the Senior treasurer of the Finance Students' Association. The debate event was organised by Ms D.D.A.S.M. Domingo and Ms S.W. Thenuwara, while the quiz competition was organised by Dr Tharindu C. Ediriwickrama and Ms T.K.E.M. Probodini. Dr T. U. Hewage from the Department of Mathematics, Faculty of Science served as the quiz master. The other staff members, Prof. A. A. Azeez, Mr D. M. S. Dassanayake, Ms K. G. K. Fernando, Ms T. P. Rathnasuriya and Ms Nimali Uluwita contributed in numerous ways.
Various industry institutions joined the event in the capacities of Official title partner- Janashakthi Group, Corporate partners- Colombo Stock Exchange and the Institute of Bankers of Sri Lanka.  Also, the Event partners ACCA, Photography and digital media partner- Create Masters, Media partner- Colombo Beacon, and Broadcasting partner- Swadesiya Sewaya and FMF media participated at the event.