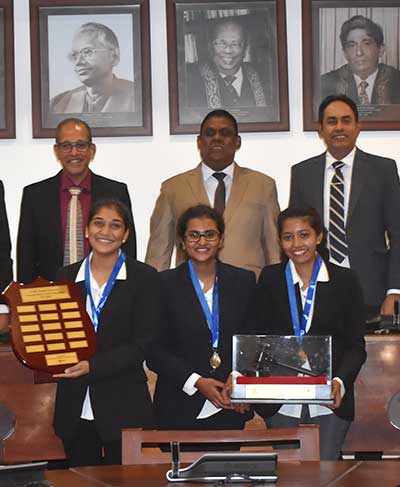 The Henry Dunant Memorial Moot National Competition – Faculty of Law
The International Committee of the Red Cross (ICRC) and the Faculty of Law collaborated once again for the 16th year to organize the National Rounds of The Henry Dunant Memorial Moot Competition. The objectives of the Moot Court are to disseminate knowledge and promote the principles of International Humanitarian Law (IHL) and provide law students with the opportunity to improve their professional skills. The Semi-Final round was held on the 6th of October 2022 at the Faculty of Graduate Studies.  Teams from the Faculty of Law, University of Colombo, Department of Law, University of Peradeniya, Department of Law, University of Jaffna and the Department of Legal Education, Open University of Sri Lanka (OUSL) participated in the Moot Court Competition. The teams from the University of Peradeniya and OUSL made it to the final round.
The Final was held on the 7th of October 2022 at the prestigious Senate Hall, College House. Dr Mario Gomez, Mr Rajiv Goonetilleke and Mr Niran Anketell served as judges for the final round and the team from the Department of Law – University of Peradeniya was adjudged as the winners and qualified for the regional round in Nepal. The best advocate award was won by Ms Nilma Wijesinghe from University of Peradeniya and the best memorial was awarded to the team from the Faculty of Law, UOC.
The award ceremony was well attended by distinguished guests, namely the Vice Chancellor of the University of Colombo, Senior Professor (Chair) H.D. Karunaratne, the Dean, Faculty of Law, Prof. (Dr.) Sampath Punchihewa, the Head of Operations of ICRC, Ms Tara Montgomery, the Head of the Department of Public and International law, Professor (Chair) Wasantha Seneviratne, the Registrar of the UOC, Mr KAS Edward and distinguished invitees from the respective universities and academics from the UOC.