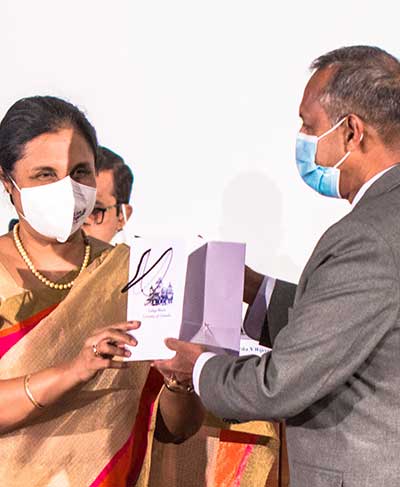 Launch of the Faculty of Engineering, UoC
The inauguration ceremony of the launch of a Faculty of Engineering at the University of Colombo was held on 12th November 2021 at the Senate Hall, College House under the patronage of Professor Kapila Perera, Secretary, Ministry of Education, and Professor Chandrika N Wijeyaratne, Vice-chancellor of the University of Colombo.
The University of Colombo re-initiated the process of establishing a Faculty of Engineering, as per the Senate and the Council endorsement of 2018, and that of the University Grants Commission (UGC) of 2019. The establishment of an Engineering Faculty was a long-felt need of UOC and further personified by the government's commitment to increase the human capital in Engineering. Hence the University of Colombo, in concurrence with the UGC, proceeded to develop its curriculum through a panel of experts selected from elite academic institutions. Subsequently, curricula of the Engineering degrees were developed by Professor U.G.A. Puswewala (Lead Consultant) and co-consultants nominated by the University of Moratuwa. Accordingly, the following Bachelor of Science of Engineering Honours degree courses will be offered by the proposed Faculty of Engineering.
Civil and Environmental Engineering
Electrical and Electronic Engineering
Mechanical Engineering
Computer Engineering
Furthermore, the University of Colombo has developed its curriculum of Electrical and Electronic Engineering degree enabling highly skilled human capital for the Integrated Circuit manufacturing industry with the help of Sri Lankan Post Doctoral alumni in the USA and Australia. This initiative is purely aimed at developing a sustainable IC fabrication industry that will boost the economy of Sri Lanka.
Additionally, the Bachelor of the Science (Honours) in Bioengineering degree (de novo in Sri Lanka) will be offered by the Faculty of Engineering. The latter curriculum was developed by a group of internal experts from the Faculty of Science, Faculty of Medicine, IBMBB, and UCSC. This team was led by Professor K M Nalin de Silva, of the Faculty of Science, along with Professor Shervanthi Homer-Vanniasinkam, Senior Research Advisor of the University of Colombo, to ensure the catering of global academic and industry requirements.
The proposed faculty of Engineering will commence operations from the year 2023 with AL 2022 intake.
More photographs on FOS Media
Recorded live Session on FOS Media