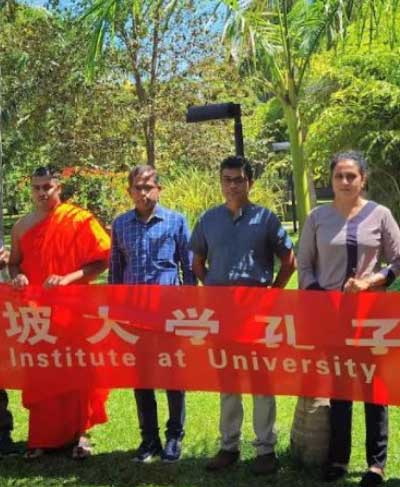 The 2nd Academic Staff Training Workshop – Confucius Institute
The Confucius Institute, University of Colombo (CIUC) initiated the 2nd Academic Staff Training Workshop from 18th – 20th November 2021, by aiming to improve the academic and teaching abilities of Chinese language teachers and to create a united and efficient teaching team.  This training was for Chinese teachers, local Chinese teachers, and all non-academic staff under the guidance of Senior Professor Lasantha Manawadu, Dean, Faculty of Arts, Mr. P. M. S. Bandara, the Deputy Registrar, Faculty of Arts, Directors of CIUC Professor Wimal Hewamanage and Professor Ma Zhongwu.
During the program, Senior Professor Lansantha Manawadu delivered a lecture focused on the development of the Institute at the University of Colombo.  He provided the patient guidance to the staff members in their work to put forward relevant solutions. Professor Wimal Hewamanage delivered the lecture on "How to write a research abstract".  This lecture produced a rewarding exposure for the significance of scientific research and academic writing to all academic staff members of CIUC. He discussed the aspects of potential research on Chinese and Sri Lankan culture. The Deputy Registrar, Mr. P. M. S. Bandara demonstrated and discussed on the administrative organization structure of the University of Colombo. It helped to clarify the administration structure of UoC and the Faculties, as well as helped to aware responsibilities of each academic staff.
CI staff exchanged reflections on the training and individual academic plan. All the staff members visited Yala National Park and Ussangoda natural harbour while experiencing the Sri Lanka culture and the team cohesion. The workshop was completed with a great vivacity.