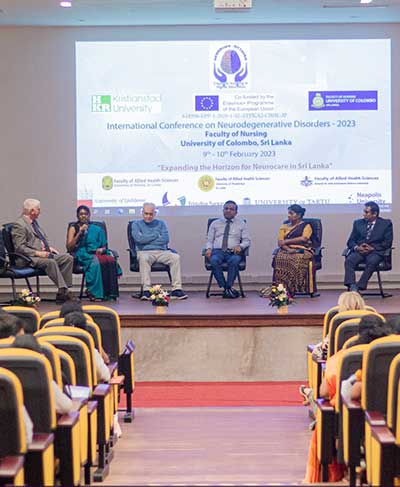 International Conference on Neurodegenerative Disorders
The International Conference on Neurodegenerative Disorders organized by the Faculty of Nursing, as a part of the nEUROcare Project was held at the main auditorium of the Faculty of Graduate Studies on 9th and 10th February 2023. nEUROcare is a European initiative for capacity building to meet the challenges of caring for people with neurodegenerative disorders in Sri Lanka. This is a collaborative project coordinated by Kristianstad University (Sweden) with partner universities and organisations from Europe and Sri Lanka namely the University of Tartu (Estonia), University of Ljubljana (Slovenia), Neapolis University Pafos (Cyprus), Triskelion (Norway), University of Colombo (Sri Lanka), University of Peradeniya (Sri Lanka), University of Ruhuna (Sri Lanka), and General Sir John Kotelawala Defence University (Sri Lanka). Over 400 participants including 30 participants from European partner universities, 20 project members and 40 students from Sri Lankan partner universities, along with healthcare professionals representing all main hospitals in Sri Lanka attended the event.
The occasion was graced by the presence of Professor Håkan Pihl, the Vice-Chancellor of Kristianstad University, Sweden who was the chief guest. The guest of honor was Dr Asela Gunawardena, the Director General of Health. Senior Professor (Chair) H.D. Karunaratne, the Vice-Chancellor of the University of Colombo, addressed the gathering representing the vice-chancellors of local partner universities. An introduction to the neuro-care capacity-building project was given by the Project Manager, Professor Martin Jens Persson. The chief guest, Professor Håkan, the guest of honor, Dr Gunawardena, and the representative deans and vice chancellors also addressed the gathering. The keynote speech was delivered by Professor Zvezdan Pirtošek from the University of Ljubljana (Slovenia). The conference that spanned two days featured a number of oral and poster presentations as well as a panel discussion on neurodegenerative disorders by local and foreign scholars.
View More Photos –

FOS Media