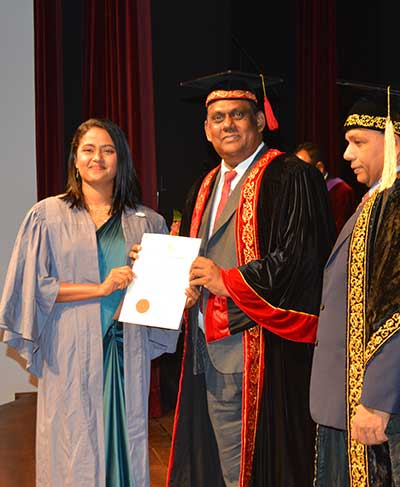 Certificate and Diploma Awards Ceremony & Postgraduate Course Inauguration – Faculty of Medicine
The awards ceremony of the Online Diploma in Disaster Management, Online Diploma in Occupational Health and Safety, Certificate in Postgraduate Research, E-learning certificate in Infection Prevention and Control, and Training program in clinical genetics was held on the 10th of February 2023 at the UCFM tower. Distinguished guests graced the ceremony with their presence, including Senior Professor (Chair) H. D. Karunaratne, the Vice Chancellor, Senior Professor Vajira H.W. Dissanayake, and the Dean of the Faculty of Medicine. A total of 33 Diplomas and 76 certificates were awarded to deserving individuals.
The inauguration ceremony for the January 2023 intake of Masters in Sexual Health, MSc in Molecular Pathology, PG Diploma in Healthcare Quality and Patient Safety, PG Diploma in Gender and Health, PG Certificate and Diploma in Laboratory Animal Sciences, Certificate in Postgraduate Research, and the Training Program in Clinical Genetics were held concurrently with the Awards ceremony. The keynote address was delivered by Senior Professor Nandadeva Samarasekera, the Chair Professor of Surgery. The Registrar of the University and other staff members of the faculty also attended the event.