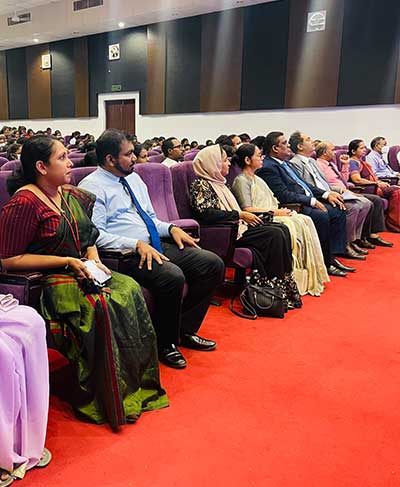 Faculty of Law welcomes the New Entrants for the academic year 2022/23
Faculty of Law commenced its Orientation Programme for New Entrants for the academic year 2022/23 with the Student Welcome Ceremony at the New Arts Theatre on the 13th of February 2023. Professor Sampath Punchihewa, Dean of the Faculty of Law, commenced the ceremony with a warm welcome to the distinguished guests and new students. The Vice Chancellor Senior Professor (Chair) H.D. Karunaratne graced the event as the chief dignitary and introduced the University of Colombo to the new entrants as the oldest and highest-ranking university in Sri Lanka.
The gathering was addressed by Dr Udapadie Liyanage, the Head of the Department of Private and Comparative Law, Professor Kokila Konasinghe, the Acting Head of the Department of Public and International Law, and Dr Shamila Dawood, the Acting Head of the Department of Commercial Law. Additionally, the new students were also addressed by the Senior Student Counsellor, Dr Rajitha Silva, the Deputy Registrar/Examinations and Registration, Ms Vajira Hapuhinna Jayaratne, the Assistant Registrar/Student and Staff Affairs, Ms Gayani de Silva, the Acting Deputy Chief Marshall, Mr A.V.P.D. De Silva, and one of the senior students of the Faculty.
Mr Sachitha Dilshan introduced the Learning Management System (LMS) to prepare the new students for a blended learning experience at the faculty and Ms E.M.Y.G. Ekanayake proposed the vote of thanks.