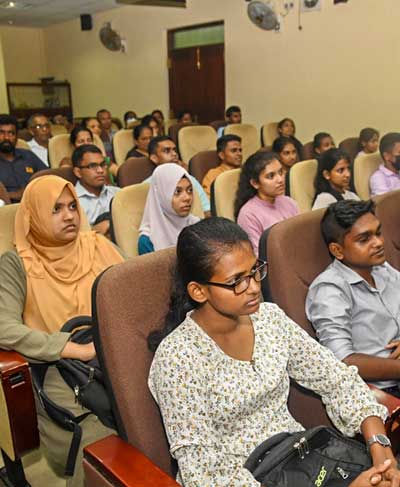 Inauguration Ceremony of the BSc (Hons) in Physiotherapy Degree Programme
The inauguration ceremony for the Advanced Level 2021 intake of the BSc (Hons) in Physiotherapy degree programme offered by the Department of Allied Health Sciences, Faculty of Medicine was held at the Faculty premises on May 8, 2023.
Addressing the new entrants and their parents, the Chief Guest, Senior Professor (Chair) H.D. Karunaratne, Vice Chancellor of the University, emphasized the importance of maintaining a balance between academic and extracurricular activities while enjoying the vibrant culture of the University. The Dean of the Faculty of Medicine, Senior Professor Vidya Jyothi Vajira HW Dissanayake, highlighted the diverse opportunities available locally and globally for BSc (Hons) Physiotherapy graduates and stressed the value of developing skills to overcome the challenges that they might face during their undergraduate journey. The Head of the Department of Allied Health Sciences, Dr Subashini Jayawardhane, and academic, administrative, and non-academic staff members of the Department and the Faculty were present at the ceremony. The event was highlighted by performances from senior students.