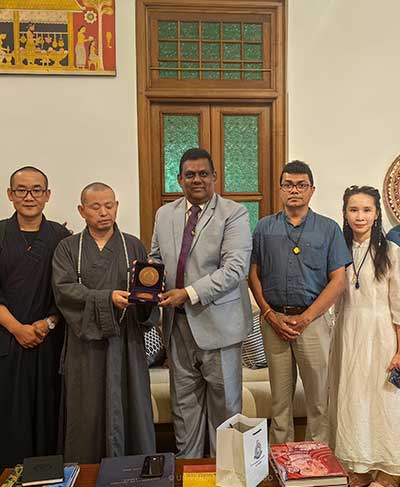 Venerable Master Yan De Visits University of Colombo for Collaborative Discussions
Venerable Master Yan De, the chief incumbent of Xifengzi Monastery in Shanxi Province, People's Republic of China, and Venerable Qing Zhao visited the University of Colombo on May 6th, 2023, along with their followers. Senior Professor (Chair) H.D. Karunaratne, the Vice-Chancellor of the University, warmly welcomed all the delegates. During the visit, there was a productive discussion on the development of welfare facilities for students to support their studies. Additionally, Master Qing Zhao expressed a keen interest in initiating research collaboration on Theravada and Mahayana Buddhism with the University of Colombo, including the possibility of establishing a Center for Buddhist Studies. Professor Wimal Hewamanage, from the Department of Buddhist Studies and the Coordinator of the program, also participated in the discussion.
The Vice-Chancellor highlighted the University of Colombo's recent efforts to support students who have faced difficulties due to the country's economic crisis. Master Yan De expressed high appreciation for the Vice-Chancellor's leadership, emphasizing the importance of generosity as a fundamental teaching in Buddhism. Furthermore, the Master agreed to collaborate with the University of Colombo in assisting students.