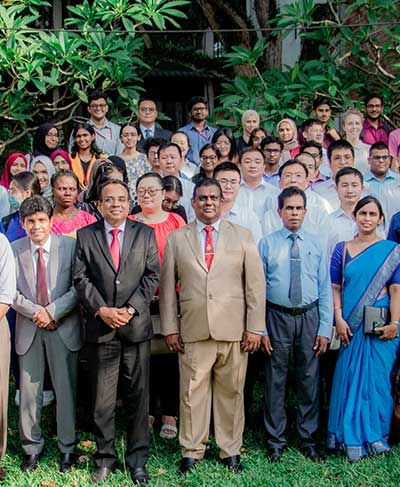 The Inaugural meeting of the International Student Association
The University of Colombo takes pride in forming the first-ever International Student Association in the Sri Lankan university system on 16th May 2023, marking a memorable day in the history of the University's international affairs. The overarching aim of establishing an international student association at the University of Colombo is to create a platform to bring foreign students together in assisting them to acclimate to life at the university and connecting them to other students as well. Currently, the University of Colombo has registered over two hundred international students pursuing their studies in both undergraduate and postgraduate programmes in the disciplines of medicine, management and finance, economics, humanities, and linguistics.
The inaugural meeting was held in the presence of the Vice Chancellor Senior Professor (Chair) H.D. Karunaratne, Deans, Directors, and academic and administrative staff members at the Professor W. M. Jayaratne Auditorium, Faculty of Management and Finance. The newly-established International Student Association of the UOC constitutes three chapters: International Students Alumni Association, International Postgraduate Students' Association, and International Undergraduate Students' Association. The office bearers for each chapter were appointed among the students who were present both in-person and online.
Undergraduate International Student Association:
President – Sanidi Edirisinghe (Faculty of Medicine)
Vice President – Hannah (Faculty of Medicine)
Secretary – Navaneeth Krishna (Faculty of Medicine)
Assistant Secretary – Movinya Abeysooriya (Faculty of Medicine)
Treasurer – Visal (Faculty of Medicine)
Postgraduate International Student Association:
President – Wang Li (Faculty of Management & Finance)
Vice President – Blessing (IBMBB)
Secretary – Peter (Faculty of Management & Finance)
Assistant Secretary – Chaz Xzaoyz (Faculty of Management & Finance)
Treasurer – Li Yunning (Faculty of Management & Finance)
Alumni International Student Association:
President – Boniface Makori Nyamweya (IBMBB)
Vice President – Andy Zhang (Faculty of Management &
Finance)Secretary – Sanja Ipu (Faculty of Science)