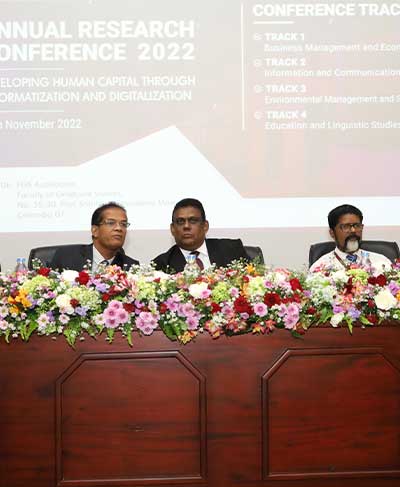 Annual Research Conference 2022 – Faculty of Graduate Studies
The Annual Research Conference 2022 of the Faculty of Graduate Studies was held on 14th November 2022, under the theme of "Developing Human Capital through Informatization and Digitalization". The Vice Chancellor Senior Professor (Chair) H.D. Karunaratne, graced this occasion as the chief guest. The keynote speech was delivered by Professor B. Hareendran, the Academic Director of Bharata Mata Institute of Management, Kerala, India.
The Keynote speaker focused on the importance of human capital in today's dynamic world and how it can be moderated by technology. He further emphasized that informatization and digitalization are the key factors that drive the development of human capital in the 21st century. There were four tracks in the conference representing vibrant disciplines which are Business Management and Economics; Information and Communication Technology; Environmental Management and Sustainability; Education and Linguistic Studies. 33 extended abstracts were presented at the conference showing the multidisciplinary nature of programmes conducted by the Faculty of Graduate Studies. It stimulates the intellectual debate among academics and practitioners on trending topics in the Sri Lankan context as well as the entire globe.