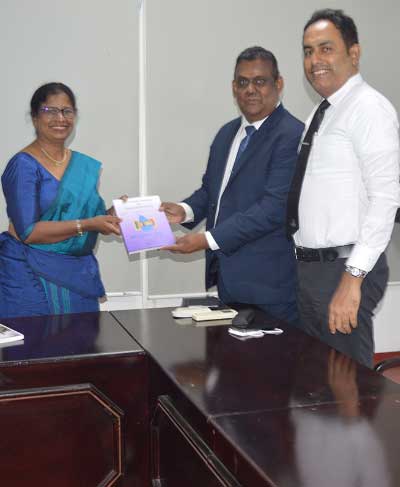 The Faculty of Law warmly welcomes the newly appointed Vice-Chancellor during his visit to the Faculty
The newly appointed Vice-Chancellor, Senior Professor (Chair) H. D. Karunaratne visited the Faculty of Law on the 5th of May, 2022. He was warmly welcomed by the academic and non-academic staff of the Faculty of Law, headed by the Dean of the Faculty of Law, Professor Sampath Punchihewa. The visit was made with the intention of carrying out a fruitful discussion pertaining to satisfying the needs and requirements of the Faculty of Law.
Senior Professor H. D. Karunaratne assumed duties as Vice-Chancellor of the University of Colombo on the 12th of April, 2022 as the 19th Vice-Chancellor. He kindly highlighted the standing of the Faculty of Law as the first and most prestigious academic institution for law within the Sri Lankan university system. During his discussion with the staff of the Faculty, he expanded upon the importance of efficiency, expansion of legal research and publications as well as a meaningful contribution to national policy development. Given the Vice-Chancellor's enthusiasm and keenness for research and publications, the Head of the Department of Public and International Law, Professor Wasantha Seneviratne gifted several publications of the Faculty of Law to him.
During his visit, several points were highlighted by the academic staff which needed improvement and attention. These included the development of infrastructure, maintenance and increase of efficiency in the teaching and learning process, enhancement of research facilities as a metropolitan university, establishment of a research publication house at the College House, re-structuring of the Establishment Code, adoption of modern trends in university culture as well as the promotion of blended learning. The Vice-Chancellor conveyed his positive insights towards meeting the requirements of the Faculty of Law and promised to provide his fullest support for the betterment of the Faculty of Law during his office. The Faculty of Law is grateful for his kind support and wishes him all the very best during his time in office.