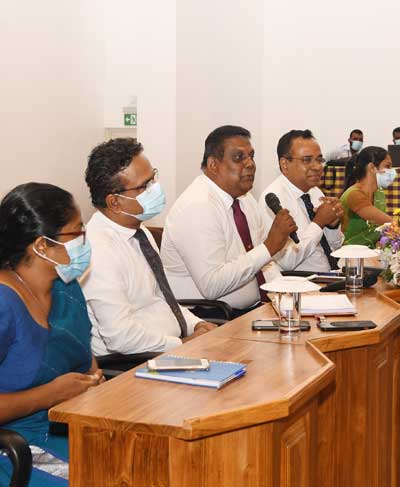 Inaugural Event at the New Auditorium of UCFM Tower, Faculty of Medicine
The Vice Chancellor, Senior Professor (Chair) H. D. Karunaratne, visited the new auditorium of UCFM tower, Faculty of Medicine on 17th May 2022. This is in concurrent to the 497th meeting of the Faculty Board of Faculty of Medicine which happened to be the inaugural event to be held at the new auditorium of the UCFM tower. The Dean Faculty of Medicine, Senior Professor Vajira H.W. Dissanayake, academic and administrative staff warmly welcomed the Vice Chancellor to the faculty board and the proceedings commenced with the lighting of the traditional oil lamp. While congratulating the faculty for its 153rd anniversary, in his address, the Vice Chancellor highlighted the importance of evolutionary changes to the Faculty of Medicine for its standing as a great faculty in the country. Owing to the current economic crisis in the country, he emphasized the responsibility of the university, as a free education provider, in building a financially literate community and using behavioral economics concepts such as "nudge theory" for making better results with smaller changes. He requested the Faculty of Medicine, the best faculty in the university in terms of academic, research, research grants etc. to make its fullest contribution to lead the University forward.
During his discussion with the academic staff, several suggestions were made by the academic staff. These included one stop shop for all research related activities, deploying a mechanism of using the generated funds of the faculties for the development of the faculties etc. The Vice Chancellor conveyed his positive insights towards these suggestions and highlighted the need of financial and administrative decentralization for effective expansion of the university. He promised the fullest support to the faculty during his term. The Faculty of Medicine appreciated his visit to the faculty and the staff of the Faculty of Medicine wished him all the very best during his time in office.