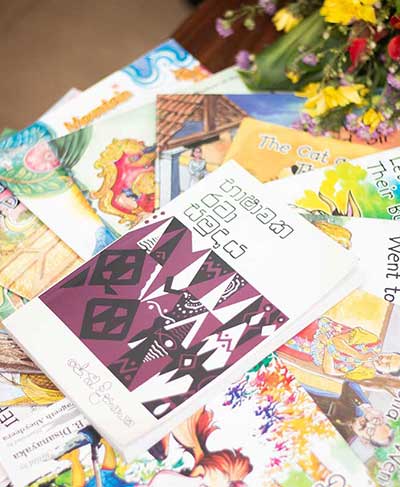 Establishment of the "Scholars' Corner" of the Library
The instigation of the first ever "Scholars' Corner" in a university library in Sri Lanka has taken place at the Library, University of Colombo on 17th July 2023. The initiative came to fruition by receiving the first generous book donation from Emeritus Professor J.B. Disanayaka, consisting of nearly 300 books related to the Sinhala Language, Art, Literature, History, and Archeology authored by himself.
The event was graced by the Chief Guest, Senior Professor (Chair) H.D. Karunaratne, the Vice-Chancellor of the University, Guest of Honour, Emeritus Professor J.B. Disanayaka, and other distinguished guests such as Senior Professor Lasantha Manawadu, the Dean of the Faculty of Arts, Dr Pradeepa Wijetunge, the Director of the NILIS, Mrs Sajeewanie D. Somaratna, the Acting Librarian,  Mr K.A.S. Edward, the Registrar, and Heads of the Departments along with other staff members of the University. Several dignitaries such as university academics, librarians, authors and book publishers, also graced the occasion with their presence.
The audience was welcomed by Mrs Somaratna who explained the objectives and advantages of having a "Scholars' Corner" at the University Library. Consequently, Professor Sandagomi Coperahewa, the Head of the Department of Sinhala, shed his thoughts on the significance of inaugurating a "Scholars' Corner" while thanking the Acting Librarian and the staff of the Library for their efforts. Adding more insight into the event, Professor Manawadu also addressed the gathering.
The Chief Guest of the event, Professor Karunaratne appreciated the new initiative and encouraged the Library staff to promote more such good activities in the future, as well. The Guest of Honour of the event, Professor Disanayaka, exchanged fond memories from his past experience, which was very exciting and inspiring to all. The book donation was ceremonially handed over to the Vice-Chancellor and the Acting librarian by Professor Disanayaka. Mrs S.M. Adhikari, Senior Assistant Librarian of the Main Library delivered the concluding remarks with thanks. The inspiration for establishing this type of collection was received from Professor Sandagomi Coperahewa for enabling researchers having easy access to books and monographs published by the eminent scholars of the University by aggregating them in a single location of the Library.
The "Scholars' Corner" will promote the research and scholarly activities of the researchers of the University while encouraging them to publish more scholarly publications in their respective fields of discipline.
View More Photos: FOS Media