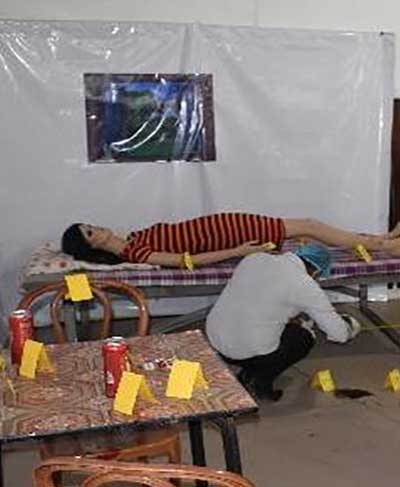 Crime Scene Investigation Workshop for Diploma in Death Investigation
The Department of Forensic Medicine and Toxicology organised an onsite workshop on Crime Scene Investigation for the students of the Diploma in Death Investigation Course on 18th of December 2021 at the Department of Physical Education and the Faculty of Education. The workshop was designed to provide hands-on experience in the practical handling of crime scenes. The participants, comprising Inquirers into sudden death, police officers, doctors, and lawyers, were grouped into three different scenarios that covered multiple objectives of crime scene investigation including site surveying, grid mapping, scene photography, evidence collection, and scene reconstruction.
While the academic staff of the Department of Forensic Medicine were the overall resource persons, the activities were mainly coordinated by the academic support staff and technical officers of the department. Ms. Madhu Gunathilaka, Scientific Assistant, covered the main principles of crime scene management. Mr. Tharaka Rathnayake spoke on forensic photography. Mr. Lakshitha Ranatunga, Ms. Nishani Dissanayake and Mr. Pramod Madura developed the audio-visual learning content. Health screening, student liaison, and the onsite activities were mostly handled by Ms. Udeshka Seneviratne, Ms. Shivashankarie Kandasamy, and Ms. Sandali Sigera. The workshop was held in accordance with the current health guidelines and the activities were mostly conducted in the open areas in and around the gymnasium. We would like to acknowledge the tremendous support given by the staff of the Department of Physical Education and the Faculty of Education towards this workshop. The vicinity and facilities were ideal for this purpose and both the resource persons and participants alike found the venue and the arrangements most satisfactory.